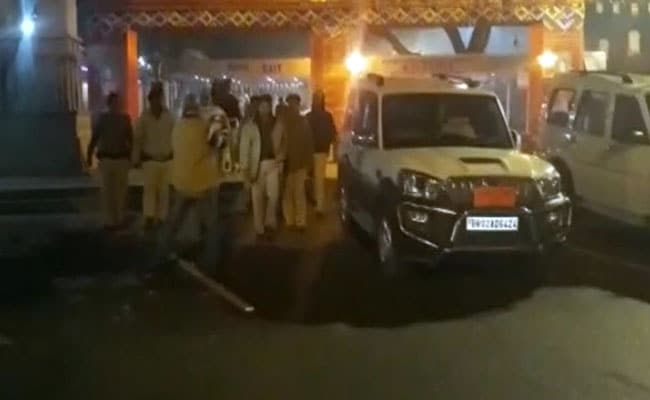 Patna:
At least two crude bombs were found at Bodh Gaya pilgrimage centre in Bihar on Friday evening, just hours after Tibetan spiritual leader Dalai Lama had retired for the day. The bombs were detected during a search of the centre 100 km from state capital Patna following an explosion near one of the grounds at the complex.
Considered one of the most sacred Buddhist shrine and the seat of Buddha's enlightenment, the Mahabodhi temple complex had been the target of serial bomb blasts in July 2013 that had injured many. In all, 10 bombs hidden in different parts of the complex had gone off in one hour; three at the temple sites and six within the one kilometre radius. Three more bombs had been defused.
The Home Ministry had then agreed to let the Central Industrial Security Force take over security of the complex. But this plan didn't get far reportedly because there was no unanimity on who would foot the bill. The CISF only provides security on payment but the shrine management had made it clear that it just couldn't afford them. And it continued to rely on private security guards.
The discovery of the bombs on Friday evening was a reminder of the risk that this had posed.
Senior Bihar police officer NH Khan said the bombs were found from the vicinity of the Kalachakra ground by a police team after a small explosion took place, according to news agency Press Trust of India.
The explosion had taken place shortly after the Dalai Lama had completed his discourse and retired for the day at the Tibetan monastery, Mr Khan said.
During the operations, a burst thermos flask was found at the kitchen.
In the 2013 case, the central anti-terror probe agency, the National Investigation Agency had charged four members of the banned terror group, Students Islamic Movement of India, for the blasts. One of them was a teenager. A juvenile board had, in November last, held him guilty for planting a bomb under the 80-feet statute of Gautama Buddha at the temple complex. He and the other accused told the police that they wanted to avenge the atrocities against Rohingya Muslims in Myanmar.