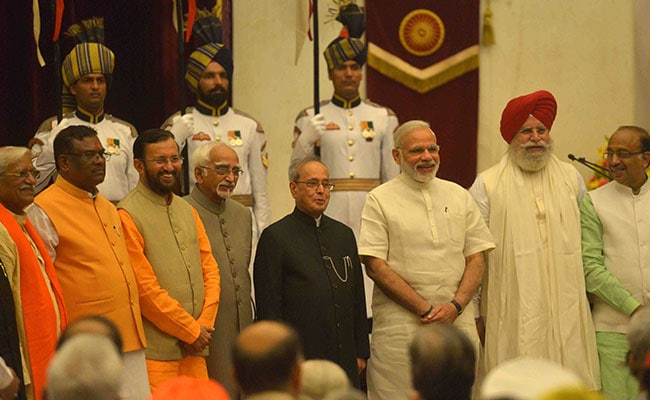 New Delhi:
Prime Minister Narendra Modi inducted 19 new ministers on Tuesday to bolster his two-year administration. Five ministers have been removed from his government.
Here is your 10-point cheat-sheet to this big story:
The council of ministers now has 78 members, the largest in years. Today's additions include several from lower castes.

The ministers were sworn in this morning by President Pranab Mukherjee, but their portfolios were not immediately announced.

The size of the council of ministers has led to critics describing it as far removed from the PM's promise of "minimum government and maximum governance" made during his campaign for the general election.

"If this was a reform-minded government, you would be reducing the numbers of people and portfolios, shedding ministries," said Manoj Joshi, a political expert at Observer Research Foundation in New Delhi.

Some political analysts say the PM's party, the BJP, suffers from a shortage of experienced members.

A number of new ministers belong to backward castes, which will play a critical role in next year's election in the largest state of Uttar Pradesh. Important states like Gujarat and Punjab will also choose their next governments soon.

Environment Minister Prakash Javadekar was elevated to full Cabinet rank.

PM Modi described the changes as an expansion and not a reshuffle of his Cabinet. He said his government intended to ensure speed and focus in development work.

"His eyes are set on his re-election in 2019," said Neerja Chowdhury, a political analyst. "He has given representation to the social groups that voted for him in the last general election."

The PM completed two years in office in May. These are his first big change to his council of ministers.