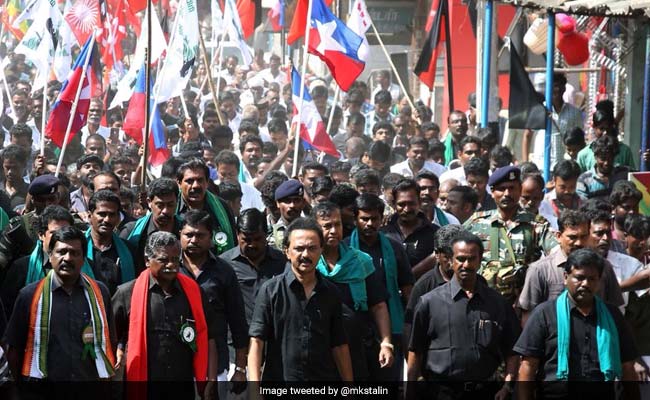 New Delhi:
Protests over what appeared to be a move to impose Hindi teaching in schools everywhere, including southern states, started after the government put out a Draft National Education Policy 2019 and asked for feedback. The report, prepared by an expert panel led by Krishnaswamy Kasturirangan, former chief of the Indian Space Research Organisation, has recommendations of far-reaching consequences including the "three language formula" that was seen by many in non-Hindi speaking states like Tamil Nadu and Kerala as an effort to force them to accept mandatory Hindi learning till Class 8. The government has now dropped that part of its draft.
Here's your 10-point cheat sheet on the National Education Policy 2019:
Tamil Nadu's main political parties AIADMK and DMK spearheaded the anti-Hindi protests, saying that the plan served "a political purpose" in the long term.

The part that the Tamil Nadu parties say they found problematic starts with the section that reads, "Since children learn languages most quickly between 2-8 years, and multilingualism has great cognitive benefits for students, children will be immersed in three languages early on, from the Foundational Stage."

"...The study of languages by students in the non-Hindi-speaking states would include the regional language, Hindi and English," said the draft policy document. Today, the revised version uploaded on the Human Resource Development Ministry's website removes any reference to making Hindi compulsory.

"In keeping with the principle of flexibility, students who wish to change one or more of the three languages they are studying may do so in Grade 6 or Grade 7, so long as they are able to still demonstrate proficiency in three languages...," says the revised version.

Tamil Nadu has long opposed any moves to give Hindi greater prominence than other Indian languages. The region saw anti-Hindi protests in 1937 that went on till 1940. In 1965, the issue flared up once again, triggering riots that killed as many as 70 people.

Amid growing anger, Human Resource Development Minister Ramesh Pokhriyal had said no language would be imposed on any state. "The committee has given its report, but that is not the policy," he had said on Saturday.

The anger didn't subside even after two more ministers, Finance Minister Nirmala Sitharaman and Foreign Minister S Jaishankar, reassured in almost identical tweets in Tamil that the draft will be reviewed before implementation. Both the ministers are from Tamil Nadu - the state which has been loudest in its objections.

The school education minister of Tamil Nadu has said that the new policy, if enacted, will be shunned by the state. "Tamil Nadu will follow only two-language policy. Only Tamil and English will bravely march in Tamil Nadu," said KA Sengottaiyan, whose AIADMK party is an ally of the BJP that rules at the centre.

Senior Congress leader P Chidambaram, in a series of tweets in Tamil, said: "What is the meaning of three language formula in schools? The meaning is they will make Hindi a compulsory subject..."

BJP leader Tejasvi Surya defended the draft National Education Policy, claiming it had been "twisted, misinterpreted and misunderstood" and it was wrong to say the centre "is trying to impose Hindi". "The NEP doesn't impose, rather encourages, learning Hindi as a language in school," Mr Surya tweeted on Sunday.
Post a comment