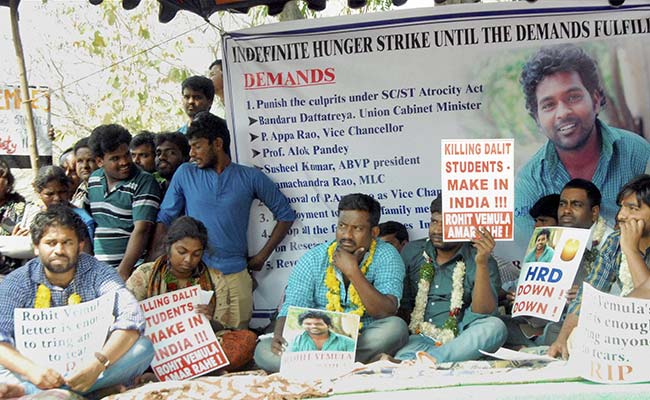 Hyderabad:
Students back from summer vacations in Hyderabad University were shocked to find the memories of Dalit scholar Rohith Vemula wiped out.
The protest site at Velivaada -- where a makeshift memorial had come up for the scholar who had committed suicide on January 17 this year, triggering student protests across campuses in the country -- had been cleaned up.
Velivaada is the site of challenge against caste discrimination, especially for the Dalits, which had turned into a protest venue since Rohith Vemula's death. Protests began last year when Dalit students alleged that they weren't receiving their fellowship.
But on May 28, University Vice Chancellor Appa Rao Podile had ordered that the tents be removed from the site. Subsequently, every poster was removed, quotes of BR Ambedkar and Rohith Vemula's images painted on walls had been whitewashed.
On July 4, when the students returned from vacation, they were shocked to see the last vestiges of the protest removed. Garlands from Rohith Vemula's photo were strewn on the floor. The statue of BR Ambedkar was removed.
"They are removing all photos, posters and even the statue in the night. It has been raining during the day, so we haven't been going to Velivaada. But when we went yesterday, the statue was missing from the chair," said Firdaus Soni, an executive member of the Joint Action Committee for Social Justice, a student body.
Referring to the university authorities and union ministers, one of the students, Arpita said: "I think it was after the demolition of the Ambedkar Bhavan in Mumbai, that they got their confidence. And now they are provoking us." said Arpita, another member of the JAC.
Munna Sanaki, one of the five students suspended along with Rohith Vemula told NDTV: "They (Smriti Irani, Bandaru Dattreya, Appa Rao Podile) are all accused in one atrocity case. They are only continuing to commit many more with their attempts. Our struggle will continue."
The students and the faculty held protests on July 5 in front of the university gates and burnt an effigy of the vice-chancellor.