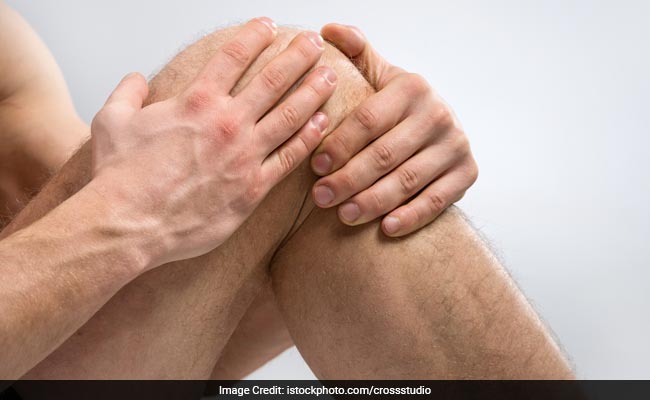 Highlights
Exercising is a great way to reduce arthritis pain
Eating foods rich in Vitamin C can be helpful for arthritis patients
Gout and lupus are also kinds of arthritis
World Arthritis Day 2018 is observed on October 12. This day is exclusively meant to raise awareness about arthritis, a condition which affects millions of people across the world. Arthritis is an inflammatory condition which causes pain and stiffness in joints which can worsen with age. The condition is such that it can affect day-to-day functioning of people. On World Arthritis Day, the idea is to raise awareness about arthritis and how it affects lives of people who suffer from it. This day was started by World Arthritis Foundation in order to spread awareness about arthritis and encourage policymakers to help reduce burden of arthritis. The theme of World Arthritis Day this year is "It's in your hands, take action."
Kinds of arthritis include gout, osteoarthritis, rheumatoid arthritis and lupus. Conditions like rheumatoid arthritis and osteoarthritis cannot be cured. They can only be treated so as to make them less intense and prevent them for interrupting your daily life.
Also read: Osteoarthritis: 7 Best Foods
Exercising and working towards reducing your weight are one of the most effective ways to keep arthritis and its related health conditions under control. Other than these, the usual treatments for arthritis involve medication which helps in reducing pain.
Physical therapy is often considered to be effective in reducing arthritis pain. However, it is dependent on how severe the condition is and how physical therapy is being implemented by the patient. Motion too is considered to be an effective treatment for arthritis. Keeping joints mobile helps in reducing inflammation and offers long-term relief from the pain that it causes.
Also read: Benefits Of Turmeric: Use This Magical Golden Spice For Easing Arthritis Pain
Conditions like arthritis are common among the elderly. It is most common among people who are above the age of 65. However, some people do get the condition earlier than the age of 65. Around 30% sufferers of arthritis are under the age of 65, with some of them in their teens.
Apart from exercising and maintaining a healthy weight, there are some foods which can help in reducing joint pain and inflammation. Read below to know what they are:
1. Turmeric:Turmeric has gained immense popularity for its effect on fighting inflammation. Curcumin in turmeric can be helpful in dealing with arthritis and inflammation-related joint diseases which are chronic in nature.
2. Broccoli, cabbage and Brussels sprouts: Sulforaphane compound in these cruciferous veggies help in slowing down cartilage damage in joints caused by osteoarthritis.
3. Garlic:Garlic is the go-to food item which can help in reducing inflammation. Also, garlic contains diallyl disulfide, a compound which can reduce cartilage damaging enzymes in the body.
Also read: Suffering From Arthritis Of The Shoulder? Here Are Some Great Exercises To Ease The Pain
4. Vitamin C: Arthritis patients can benefit by increasing their vitamin c intake. Antioxidants in vitamin c can help in slowing down progression of osteoarthritis. Food sources of vitamin c are pineapple, kiwi, oranges and strawberries to name a few.
5. Fatty fish: Fatty fish options like mackerel, salmon, tuna and trout are rich in omega-3 fatty acids which help in reducing inflammation. Consuming fish a number of times in a week can be helpful for people suffering from arthritis.
On World Arthritis Day, the idea is to offer help to everyone who is suffering from the condition. Spread awareness about how people suffering from arthritis can deal with their condition and prevent it from getting worse.
Disclaimer: This content including advice provides generic information only. It is in no way a substitute for qualified medical opinion. Always consult a specialist or your own doctor for more information. NDTV does not claim responsibility for this information.