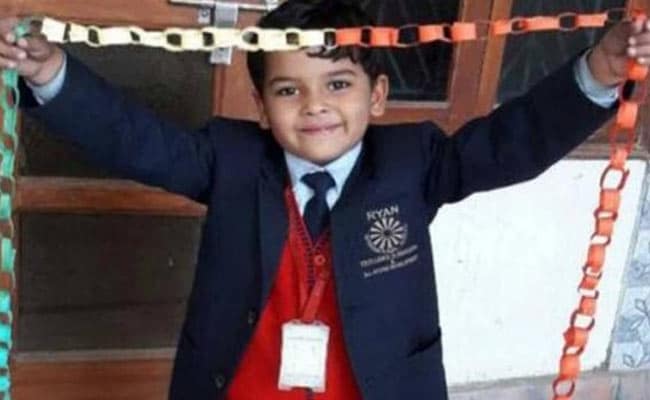 Gurgaon:
The Class 11
student of
Ryan International School arrested last month
by the CBI for allegedly killing seven-year-old
Pradyuman Thakur
in school premises will remain in custody. A Gurgaon court today rejected the bail request from the teenager but put off a crucial ruling on his trial to next Thursday.
Pradyuman, a class 2 student
of Ryan International School, was found with his throat slit in the school's washroom in Gurgaon on September 8. The police had promptly pinned the crime on school bus conductor Ashok Kumar.
The 16-year-old student was, however,
linked to the murder by the Central Bureau of Investigation, or CBI, which later took over the probe. According to the CBI's initial probe, the teenager killed Pradyuman because he wanted his exams postponed.
The teen was sent to a juvenile home
after his arrest on November 8 and has been there since then.
The court also said it would decide if the teen should be tried for murder as a child or an adult on December 20.
A change in the law for juveniles in 2015 gave the Juvenile Justice Board the discretion to decide if a juvenile between the age of 16 and 18 accused of a heinous offence that carries a punishment of more than seven years should be tried as an adult or a minor.
In arriving at this decision, the board has to account for severity of the offence, mental and physical capacity to commit such offence, ability to understand the consequences of the offence and the circumstances in which he allegedly committed the offence.
If the board decides to treat the teen as a juvenile, he would be tried under the Juvenile Justice Act and be kept in a children's home till he turns 18. But if the board treats him as an adult under the new law, murder charges under the penal code will apply and if convicted, he could theoretically be even be sentenced to a life term in jail.
The student, reportedly under psychiatric evaluation for a year over anger issues, had been questioned several times and his account kept changing, sources say. He was among five people seen on security footage near the toilet where Pradyuman's body was found.
The CBI said the student had planned the killing but hadn't identified his target. Pradyuman, a student of Class 2, just happened to walk into the toilet and present an opportunity