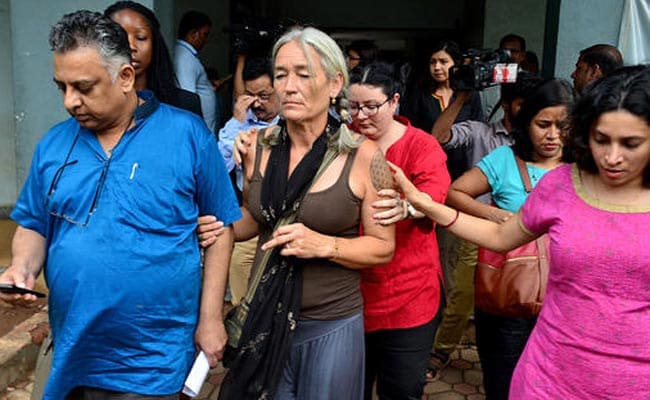 Mumbai:
Fiona MacKeown, the mother of 15-year-old Scarlett Keeling found dead on a Goa beach eight years ago, says she feels she is on trial after a children's court acquitted two men of all charges in her daughter's death and questioned her actions in its order.
Details of the judgment delivered last week show that the court rejected the testimony of three witnesses to acquit beach shack barmen Samson D'Souza, 28, and Placido Carvalho, 41, who were accused of sexually assaulting British national Scarlett after giving her a cocktail of drugs and leaving her unconscious in shallow sea water.
Scarlett was found dead on Goa's Anjuna beach on the morning of 18 February 2008. Her mother, who was traveling elsewhere in India when Scarlett died, rejected the police's theory that she had drowned.
In its 107-page judgment, the court has said it found "considerable delay on part of the mother in filing the complaint," and has also asked why Fiona MacKeown left her daughter alone in Goa in the company of people she believed had questionable antecedents.
The judge, Vandana Tendulkar, has also said that, "the entire process of investigation is seen monitored by the mother of the victim and her advocate, at every stage, thereby creating serious doubt about the impartiality of investigation."
"It seems like I'm the one on trial here. I desperately wanted to know what happened to my daughter. The police had lied to me so much that I felt I had to keep an eye on the investigations. So is everybody following the case, including the press and the public guilty?" Ms. Mackeown asked today.
She denied she delayed filing a case, alleging, "Every single day we went to the police asking them to treat this as a murder but they refused." A case was registered only on March 8, 2008, 20 days after Scarlett died.
The judge - who has questioned the veracity of the testimony of three witnesses who say they last saw Scarlett with the two accused at a beach shack - has also pointed out that there was a gap of one and half hours between the time that Scarlett was last seen alive and when her body was found. The two men's being seen with the 15-year-old last is not sufficient proof to show that they are guilty of her death, the order says.
The court also found no evidence to prove sexual assault with a British national Michael Mannion refusing to depose; he had earlier told the police that he saw Mr Samson assaulting Scarlett.
Ms MacKeown says she is keen to appeal in a higher court.