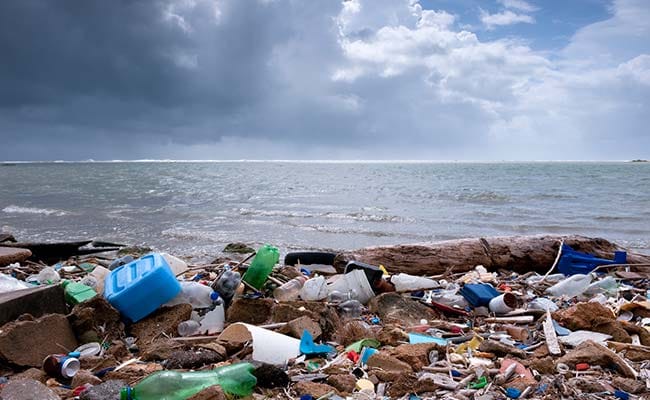 Panaji, Goa:
Marine organisms along Goa's shoreline are facing a threat from the huge plastic debris that gets washed ashore during the monsoon season, says a study by National Institute of Oceanography (NIO).
A research paper recently published by a team of Goa-based NIO scientists and researchers says "plastic coupled with accidental spills from vessels during their transport through shipping routes, is posing a bigger challenge to coastal environment".
The NIO has come to this conclusion after studying six beaches in the state.
"The onshore plastic, plastic debris moved in during the monsoon season and ocean-based sources, may lead to major threat to marine organisms," said the paper 'Characteristics, seasonal distribution and surface degradation features of microplastic pellets (MPPs) along the Goa Coast'.
The research also speaks about the threat through MPPs usually spilled over from ships that pass through Goa's coast.
"Microplastic pellets are ubiquitous contaminants, recognised as a serious threat to the coastal, estuarine and marine environment," the research said.
The scientists have studied the distribution, abundance, weathering and chemical characteristics of MPPs on the beaches of Goa, and its transport to the coast during the southwest monsoon.
The team, which made several visits to the state's beaches armed with research tools, collected MPPs from six famous tropical beaches along the Goa coast during the northeast (January 2015) and southwest (June 2015) monsoon seasons.
The beaches of Keri, Vagator and Calangute in North Goa and Colva, Mobor and Galgibag in South Goa were studied.
"A total of 3,000 MPPs were collected from six beaches along the Goa coast during January-June 2015. Overall, the occurrence of total MPPs on beaches along the Goa coast was found to be higher in June (1,655 pellets) than January (1,345 pellets). Significant variations were observed in abundance of MPPs on beaches during that period," the study said.
"The strong ocean currents during SW monsoon could be playing a major role in pushing the micro-plastic residue floating on the sea due to accidental spillage from ships during its transportation onto Goa beaches," it said.
Though the researchers observed many secondary micro-plastics (plastic films, fibres and fragments), they could not find any MPPs in estuarine waters.
As there are no MPP-manufacturing industry located in Goa and nearby coastal regions, the distribution of MPPs along the Goa coast is likely to be from marine-based sources, like unintentional spillage in international and national shipping routes and/or neighbouring countries than land-based sources, the scientists said.
They ruled out the possibility of terrestrial discharges of MPPs through the rivers of Goa into the Arabian Sea.
The study was conducted by a team of scientists, including Mahua Saha, S Veerasingam, V Suneel, P Vethamony, Andrea Carmelita Rodrigues, Sourav Bhattacharyya and B G Naik.