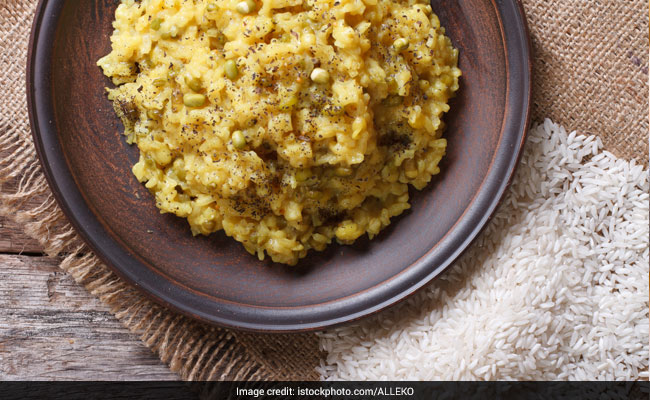 Highlights
800 Kilograms Khichdi is going to be made by ace Chef Sanjeev Kapoor
Prime Minister Narendra Modi inaugurated the three day event
The cooked Khichdi will be distributed to about 60,000 orphan children
800 Kilograms Khichdi is going to be made by ace Chef Sanjeev Kapoor at the
World Food India 2017
today in a bid to create a world record and popularise it as Brand India food globally. The event will held at the Great Indian Food Street Hangar, India Gate Lawns, New Delhi.
Prime Minister Narendra Modi inaugurated the three day event
on 3rd November, 2017 and emphasized on how this is an exciting growth journey of India's food processing sector. Earlier in the week there was a lot of buzz around Khichdi being announced as the National Dish, Union Food Processing Minister Harsimrat Kaur Badal later clarified that with this tweet.
Enough Khichdi cooked up on a fictitious 'National Dish'. It has only been put for a record entry in #WorldFoodIndia.

— Harsimrat Kaur Badal (@HarsimratBadal_) November 1, 2017


The three-day long event, organised by the Ministry of Food Processing Industries, is set to host a congregation of global investors and business leaders of major food companies from 3rd to 5th November. Here are 9 things you must know about the world record attempt of preparing 800 kilogram Khichdi the Brand India Food-
800 kilograms of Khichdi would be prepared by celebrity Chef Sanjeev Kapoor, who is the brand ambassador of Great Indian Food Street.
The planning and trials for preparing the dish have been done for over three months. Over 50 people will be involved in preparing the big pot of Khichdi.
The Khichdi will be cooked in a specially crafted, three layered, stainless steel giant kadhai (wok), which has the diameter of 7 feet and has the capacity of 1000 litres.
The Khichdi will be served to the audience present at the convention that includes eminent ambassadors and dignitaries from India and abroad. The complete recipe of the Khichdi will also be shared.
The world record attempt of Brand India prepared Khichdi will be prepared using Indian ingredients such as Chawal, Moong Dal, Amaranth, Jowar, Bajra, Jo, ghee and Indian spices to make it high protein and nutritious.
The Khichdi will be sent to all the Heads of Foreign Missions in India, along with the recipe.
The cooked Khichdi will be distributed to about 60,000 orphan children.
The dish will be unveiled as an Indian super food at the global food show, World Food Indian 2017, which has been organised by the Ministry of Food Processing Industries along with Confederation of Indian Industry (CII).
According to Food Processing Minister, Harsimrat Kaur Badal, Khichdi is a staple food of India and is considered healthiest prepared food in India. It is consumed across the length and breadth of the country by rich and poor alike and all Indians regardless of caste, creed, colour, faith or religion.
World Food India 2017 Event: The Big Day
Here's how the team World Food India 2017 is preparing to make 800 kilograms of Khichdi in 1000 litre kadhai. Chef Saransh Goila shares this video of a crane carrying the kadhai to its designated place.
Remarkable! We are attempting to cook more than 600kgs of khichdi @worldfoodindia. Wish us luck to set a record! @SanjeevKapoorpic.twitter.com/fK4TmHWFD9

— Saransh Goila (@SaranshGoila) November 2, 2017
In conv with @FoodFood 's @harpalsokhi about #foodstreet at #WorldFoodIndia and breaking the world record tomorrow pic.twitter.com/qhIyetic8v

— World Food India (@worldfoodindia) November 3, 2017
All ready to set up the world record at @worldfoodindia 2017 with @SanjeevKapoor@chefharpalsingh Sokhi @ChefImtiaz Qureshi @ChefRakheepic.twitter.com/v9IbLopKlX

— Chef Akshay Nayyar (@akshay_nayyar) November 3, 2017
Watch this space for updates!