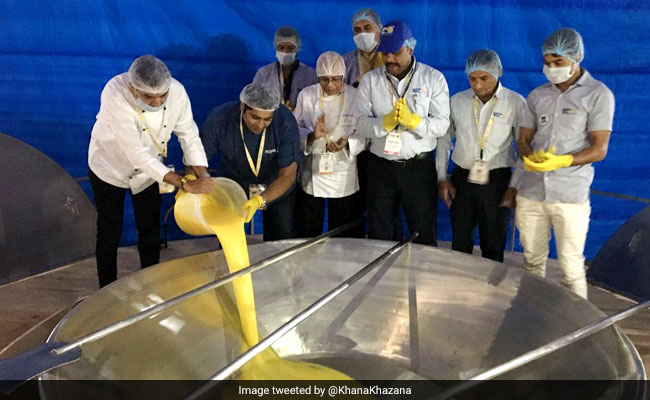 Highlights
Its done. World record attempted and achieved!
The khichdi was cooked in a custom-made kadhai (wok)
Numerous foreign dignitaries witnessed the world record being set
It's done. World record attempted and achieved! Celebrity Chef Sanjeev Kapoor, with the help of over 50 volunteers, prepared whopping 918 kilograms Khichdi, to give the Guinness Book of World Records its newest entrant. The khichdi was cooked in a custom-made kadhai (wok) in front of a live audience at the World Food India 2017. The largest serving of rice and beans, the multi-grain, nutrtious, high protein Khichdi was prepared in a kadhai of the capacity of 1000 litres and 7 feet in diameter. Planning and trials for this mammoth attempt had been underway for over 3 months. Numerous foreign dignitaries and ambassadors witnessed the world record being set at the Great Indian Food Street Hangar at India Gate Lawns.
We did it, we broke the record! Our #Khichdi has weighed in at an impressive 918kgs! #KhichdiForWorldRecord#FoodStreet#WorldFoodIndiapic.twitter.com/qNIgKhflGo

— World Food India (@worldfoodindia) November 4, 2017
A proud moment for India as #Kichidi enters the @GWR! #WorldFoodIndia#FoodStreet@SanjeevKapoor@ChefKunalKapurpic.twitter.com/VJ5XrIswUp

— World Food India (@worldfoodindia) November 4, 2017

On this achievement, Brand Ambassador of the The Great India Food Street Chef Sanjeev Kapoor said, "The largest serving of Khichdi was made by using Indian ingredients such as Chawal, Moong Beans, Amaranth, Jowar, Bajra, Jo, Indian spices to make it nutritious and high protein. We promote international foods in India and it is our opportunity to showcase our superfoods to the world."


Officials from Guinness World Records were present at the location where 918Kgs of Khichdi was being cooked.
Looks who's here!
We are ready to create a @GWR with 800kgs of #Kichadi being cooked at #WorldFoodIndia. Are you? pic.twitter.com/HvQXMnevXB

— World Food India (@worldfoodindia) November 4, 2017
The cooking process began earlier this morning and Chef Kapoor was there with his team, supervising the proceedings and handing out regular updates to all those present.
You heard it from the best @SanjeevKapoor! Stay tuned for more on the record-breaking #Kichadi session, happening LIVE at #WorldFoodIndia! pic.twitter.com/pZ0fdyrGvr

— World Food India (@worldfoodindia) November 4, 2017
Food street curator Chef Sanjeev Kapoor tasting the Khichdi, check this out-
#Foodstreet curator & world renowned Chef @SanjeevKapoor tasting the #WorldRecord#Khichdi. Stay tuned for more. #WorldFoodIndiapic.twitter.com/jDvxi2jjkB

— World Food India (@worldfoodindia) November 4, 2017
Considering the world-record has been achieved on the auspicious day of Gurupurab, Khichdi is also being distirbuted to people in slum areas in identified regions in Delhi. As Khichdi sets a new Guinness World Record, the government plans to popularise the dish as the Brand India food globally.