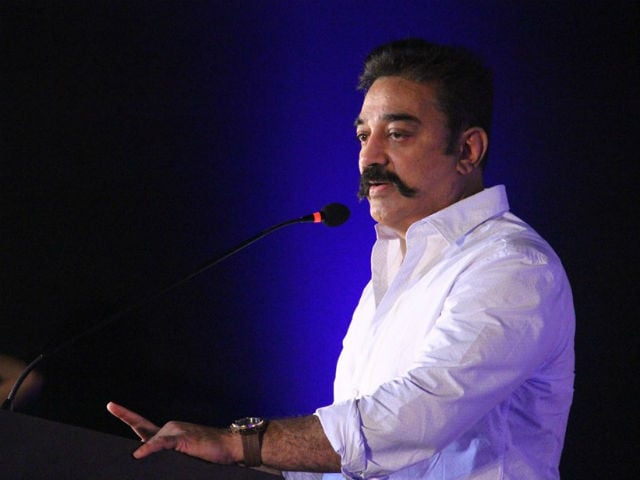 Boston:
Actor Kamal Haasan, who is a part of the reform committee of the Central Board of Film Certification, spoke about censorship and democracy at the India Conference at Harvard University over the weekend.
Mr Haasan, 61, addressed Harvard students and said he objects to censorship but has no issues with certification, which should be there like a "statutory warning." He also noted that 'Censor Board' is a misnomer: "First, I would like to clarify that the battle against censor is in a progressive state. That's why they are not called censor board any more. They are a certification board," the actor said, maintaining that the practice of censorship continues.
"Certification should be there like a statutory warning," he added.
The actor, whose 2013 film
Vishwaroopam
was banned in Tamil Nadu for 15 days and was released only after muting certain scenes, has in the past expressed reservations about the censor board guidelines.
When Mr Haasan was asked if he plans to invest in start-ups, he said, "Because of the dire state of affairs in my (film) industry, I myself am a start up."
The actor also said that he is currently working on a script with three of his American friends and the movie would be in English. "I hope to direct that film also," he said.
Acknowledging that piracy is a major issue for the Indian film industry, the star alleged that there are efforts to intentionally allow black money to flourish. Mr Haasan argued that the government needs to treat the Indian film industry with respect and dignity.
"There is a strong voice coming from the industry, telling that you have no right to do that (fixing the maximum price of a movie ticket). Treat us like any other business. We would show you we are as good as IT. We could contribute to the exchequer by thousands of crores, if they do some little modification," he said.
Recalling that the rise of Hitler in Germany and imposition of emergency in India came through normal democratic process, Kaman Haasan said "constant vigil" is required to safeguard freedom of speech in a democracy.
"Democracy is often touted as the only bastion of freedom of speech. It is a work in progress. Constant vigil is necessary to safeguard it," Mr Haasan said. "It is only through the offices of democracy that Adolf Hitler rose to the power. In the Indian political history, emergency was promulgated and voices were silenced," he reminded his audience.
"I have taken the opportunity to put on record here and in India we can't take freedom of speech for granted and complacently think that democracy automatically means freedom of speech," Mr Haasan said. He pointed out that he was not criticising the democracy of India and, in fact, is proud of it and wants the country to set an example for the whole world.
"Not only India, but the world is in transition. The world is going to face new challenges, find new opportunities. We want India not to be complacent, but set world standards," he added.
Kamal Haasan also said "religion in politics" is not healthy. "What Nehruji spoke of once of unity in diversity, now we are trying to lose it very fast. In a world of open source, protectionism cannot work like medieval times.
"Those evangelising democracy nowadays want us to believe that it is the only hope for freedom of speech. I, as an artist, believe that freedom of speech is separate from the ruling political state," Kamal Haasan concluded.
Kamal Haasan is currently making the sequel to his 2013 hit
Vishwaroopam
.
Inputs from PTI.
Watch: