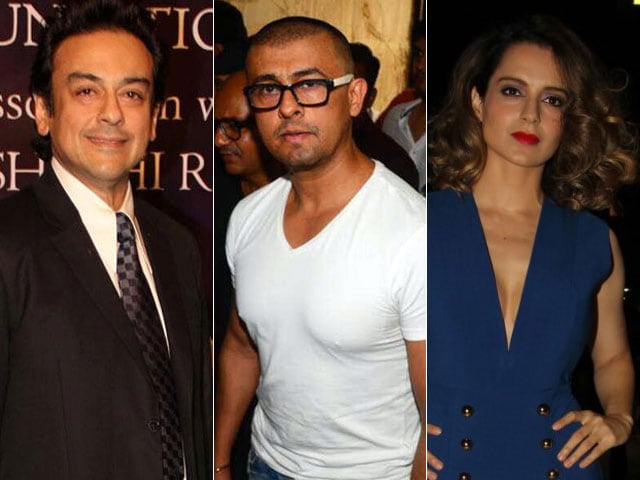 Highlights
'I don't know what exactly he's said,' said Adnan Sami
'It's fine to express your views,' said Saif
'Religious shouldn't disturb anyone else,' Javed Akhtar said
New Delhi:
Sonu Nigam's
tweets against the use of loudspeakers
for the
azaan
in mosques has started a conversation among his colleagues, with several celebrities reacting to the 43-year-old singer's argument. Mr Nigam's posts about being woken up by the
azaan
fractured social media opinion last week, in particular a tweet in which he used the term '
gundagardi
.' There were as many on his side as against and, in a grand climax, Mr Nigam invited the press to his Mumbai home to film his head being tonsured in a defiance response to a Muslim cleric's offer of Rs 10 lakh to anyone who would shave the singer's head and garland him with old shoes. Sonu Nigam's detractors included composer Wajid Khan but he has now
received a vote of confidence from another colleague
, singer Adnan Sami.
Mr Sami, who was born Pakistani but opted for Indian citizenship recently, told news agency ANI, "I have mostly stayed abroad. I don't know exactly what Sonu Nigam has said. I know Sonu very well. He's a good and old friend of mine. He has a good heart. I believe that Sonu will never do anything to hurt the sentiment of others. But, like I said before, I don't know what exactly he's said. I want to see it with my own eyes first." Mr Sami was speaking at the Mumbai airport after flying home.
Watch what Adnan Sami said:
Actor Saif Ali Khan in an interview to
Indian Express
described Sonu Nigam's tweets as "a bit aggressive," adding, "It's fine to express your views on the decibel levels."
Lyricist Javed Akhtar
told IANS that religious prayers should not disturb anyone. "As far as I think, no matter if it's a Masjid, Mandir, Church or Gurudwara, whatever is the place, do your prayers, but it shouldn't disturb anyone else," IANS quoted Mr Akhtar as saying.
Last week,
actress Kangana Ranaut
said she loves the
azaan
but that Mr Nigam's views should be considered, reported PTI. "I'm speaking for myself. Be it any religious activity, be it any gurudwaras, temples or mosques I love them. But that's not to say what he is saying shouldn't be considered, that's his opinion and he should be respected for that. And that's the idea of bringing it on social media so that it can be discussed," Kangana said, reported PTI.
On Twitter, the posts against the
azaan
elicited comments from actor Richa Chadha, filmmaker Pooja Bhatt, comedian Sunil Grover and several others from showbiz.
Last Thursday, Sonu Nigam invited hairstylist Aalim Hakim to tonsure him on camera after the Rs 10 lakh reward was offered. On Twitter, support poured in from actors like Anupam Kher, Randeep Hooda and Ranvir Shorey.
bande mein hai dum
," wrote Mr Kher while Mr Shorey said: "Huge respect for this, Sonu Nigam." Randeep Hooda jumped in to clarify Mr Nigam's intentions: "What Sonu Nigam meant was against loudspeakers not against a religion."
Speaking to the press ahead of his tonsure, Mr Nigam said: "You have to fight the fanatics, you can't just hide and comment from Twitter." Sonu Nigam, who also been criticised as anti-Muslim for his tweets, said: "Azaan and aarti are important, loudspeakers are not."
In response to tweets expressing doubt over whether or not Sonu Nigam could have actully heard the
azaan
from his home in Andheri West, the singer tweeted a recording of the morning call to prayer on Sunday:
Goodmorning India pic.twitter.com/gG8lqPZTSQ

— Sonu Nigam (@sonunigam) April 23, 2017
Here are Sonu Nigam's tweets from last week:
God bless everyone. I'm not a Muslim and I have to be woken up by the Azaan in the morning. When will this forced religiousness end in India

- Sonu Nigam (@sonunigam) April 16, 2017
And by the way Mohammed did not have electricity when he made Islam.. Why do I have to have this cacophony after Edison?

- Sonu Nigam (@sonunigam) April 17, 2017
I don't believe in any temple or gurudwara using electricity To wake up people who don't follow the religion . Why then..? Honest? True?

- Sonu Nigam (@sonunigam) April 17, 2017
Gundagardi hai bus...

- Sonu Nigam (@sonunigam) April 17, 2017
Sonu Nigam recently collaborated with Sachin Tendulkar on the cricketer's singing debut. Earlier this year, he appeared as a judge on music reality show
Indian Idol 9
.
Meanwhile, actor Nawazuddin Siddiqui
has posted a video in which he highlights
the importance of being an artist over religious identity. Nawazuddin's video is titled '16.66%' and has been shot in the style of the controversial video recorded by Delhi student Gurmehar Kaur - by holding placards.