New Delhi:
"I am Heathcliff," says Bronte heroine Catherine in
Wuthering Heights
. The dialogue could well apply to another fictional character: Gabbar Singh in
Sholay
, a fact that the male cast of Bollywood's most iconic film were quick to recognize in its inception.
Bearded, clad in army green and boots, talisman around his neck, a pistol in one hand, a whip in another, dacoit and ganglord Gabbar Singh was a man without conscience, remorse or mercy. No act was cruel enough to make him flinch - from playing Russian roulette with his own men to slicing off Thakur Baldev Singh's arms. He was vile. He was awesome.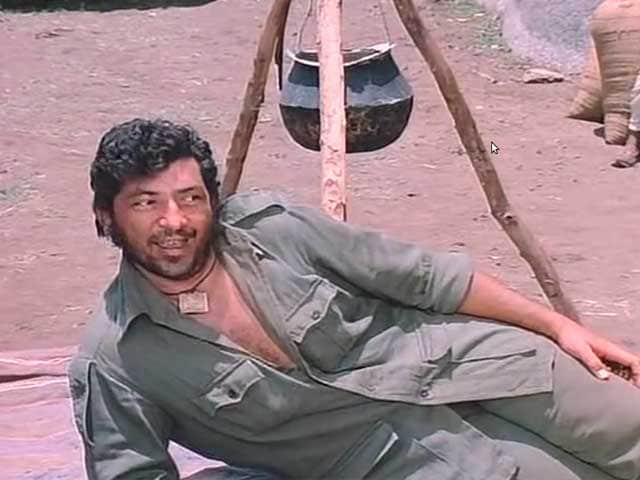 So awesome that the three principal male actors in the film - Dharmendra, Amitabh Bachchan and Sanjeev Kumar - all wanted to play Gabbar. Director Ramesh Sippy found himself badgered.
"I asked Ramesh
ji
and Salim-Javed (the writers) if I could play the character of Gabbar in the film. In fact, everyone asked if they could play Gabbar because it was such a good role. In the end, Rameshji refused to let me or Dharmendra play Gabbar," Big B told news agency ANI on Friday, a day before the film's 40th anniversary.
Watch
The man who was eventually cast in the role was the little-known actor Amjad Khan and he would have been left in the cold had a certain other actor been available. The first choice to play the sadistic Gabbar was Danny Denzongpa, already known for playing gang member Sanju in 1971's
Mere Apne
, a psychopathic killer in 1973's
Dirty Harry
remake
Khoon Khoon
and a cruel husband in
Dhund
, also 1973. Mr Denzongpa, however, was committed to film Feroz Khan's Dharmatma in Afghanistan and so, by sheer happenstance, the role went to Amjad Khan, who at the time had just one major film to his credit.
Even so, his casting was opposed by Sholay writers Salim-Javed who felt that Amjad Khan's voice was too weak to allow him to convincingly play the charismatic and forceful Gabbar. To the eternal gratitude of India's movie-going audience, Salim-Javed were overruled and Amjad Khan proved the skeptics wrong by delivering one of the most spine-chilling performances in the history of screen villainy.
He also hit it off with his castmates instantly. "Amjad
bhai
and I became very close from day one, and he used to call me Shorty," the six-foot Amitabh Bachchan told ANI.
Sholay
was the first of several film that Big B and Amjad Khan starred in together. Their later movies included
Satte Pe Satta, Naseeb
and
Kaalia.
To prepare for his role, Amjad Khan read Abhishapth Chambal, a book about the dreaded dacoits of Chambal authored by journalist-writer Taroon Kumar Bhaduri, the father of actress Jaya Bhaduri who was cast as the widowed Radha in Sholay.
The dialogues for Gabbar Singh were written in a hybrid of Hindi and Khariboli, a dialect spoken in West Uttar Pradesh.
Khariboli
, considered a more rustic version of Hindi, was later used in TV soap
Hum Log. Sholay
was replete with one-liners, packed with unforgettable dialogues but the unique blend used for Gabbar Singh's spoken language and Amjad Khan's memorably sinister delivery meant that Bollywood's baddest guy got some of its most killer lines.
10 of these, below:
1.
Bahut yaaraana lagta hai
2.
Kitney aadmi they
?
3.
Tera kya hoga Kaalia
?
4.
Arey o Sambha, kitna inaam rakhe hain sarkaar hum par?
5.
Yeh haath humko de de Thakur
6.
Jo darr gaya, samjho mar gaya
7.
Suar ke bachchon
8.
Jab bachcha raat ko rota hai to maa kahti hai beta soja... soja nahi to
Gabbar Singh aa jaayega
9. Gabbar
ke taap se tumhe ek hi aadmi bacha sakta hai, ek hi aadmi, khud
Gabbar
10.
Bahut yaaraana lagta hai