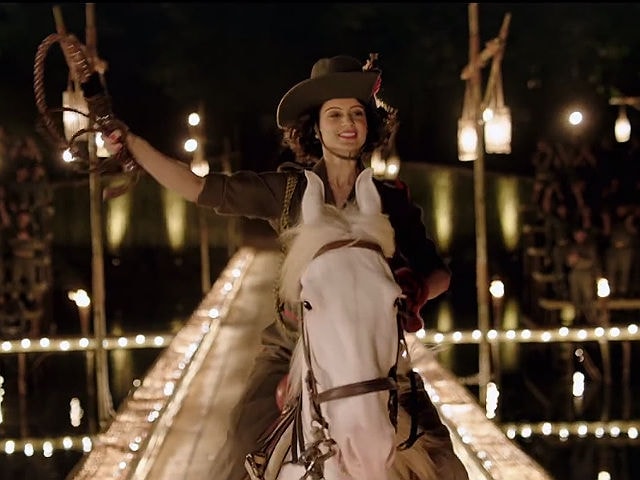 Highlights
In Rangoon, Kangana plays the role of a feisty actress Miss Julia
"They were important for my graph," said Kangana Ranaut
Kangana thought people would find her work 'average'
New Delhi:
Actress Kangana Ranaut, who plays the role of a feisty '40s actress Miss Julia in new film
Rangoon
, says many of her scenes didn't make it to the final cut and
her "hopes were shattered."
The 29-year-old actress told news agency IANS: "I never thought people would appreciate my performance as many of my scenes were cut. They were important for my graph. When I came to know that a lot of my scenes were cut, my hopes were shattered. I thought people would just find my work average. But in spite of that people like it so much so I'm very happy."
Rangoon
, directed by Vishal Bhardwaj, released on February 24.
Rangoon is a love story set during World War II
. The film co-stars Saif Ali Khan as a shrewd producer Rustom "Rusi" Billimoria and Shaid Kapoor as a soldier Nawab Malik. Rusi, who is in a relationship with Miss Julia, sends her off to Burma for a performance and Nawab Malik is entrusted with her security. En route their destination, Miss Julia falls in love with Nawab Malik and things take a drastic turn.
Watch the trailer of Rangoon
:
Meanwhile,
Rangoon
released after a
fair bit of controversy
. Roy Wadia, who owns Wadia Movietone, filed a complaint against
Rangoon
makers saying Kangana's character Miss Julia resembles that of Fearless Nadia, known for her role as the masked protagonist in 1935 film
Hunterwali
(produced by Wadia Movietone). Mr Wadia told
mid-day
that all he expected from Team
Rangoon
was "a genuine spirit of collaboration and acknowledgment." Thereafter, the Bombay High Court granted a conditional release with a guarantee deposit of Rs 2 crores on Thursday.
Watch Rangoon song Bloody Hell:
Of the Miss Julia vs Fearless Nadia controversy, Kangana earlier told IANS: "I think there is some legal hassle around that. First of all, we cannot comment on a matter when it's already in the court, but we can assure you that it (my character) is
not based on any living or dead person
."
(With IANS inputs)