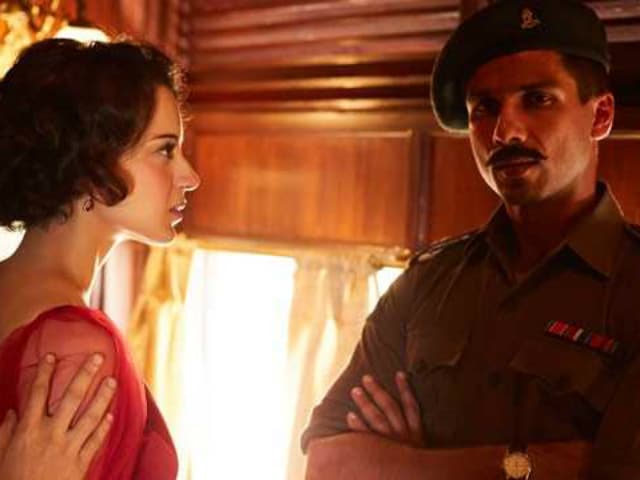 Highlights
'Woke up with 'Bloody Hell' in my head,' said Kriti Sanon
'Power packed performances,' wrote Suniel Shetty
'Rangoon last night! Bloody Hell,' said Elli Avram
New Delhi:
A screening of new film
Rangoon
-
starring Kangana Ranaut
, Shahid Kapoor and Saif Ali Khan - was held in Mumbai on Wednesday and among those who were treated to a preview of director Vishal Bhardwaj's much-anticipated film were actors Sonakshi Sinha, Sushant Singh Rajput, Kriti Sanon and Suniel Shetty.
Rangoon
, set against the backdrop of World War II in Burma, is a love triangle in which the lives of the characters played the three actors intersect romantically in wartime.
Kangana plays actress Miss Julia
, sent to the trenches by producer Rusi Billimoria who is also her lover, played by Saif. Once there, she loses her heart to Shahid's Nawab Malik, a soldier fighting with the British troops. The verdict from the actors who watched
Rangoon
on Wednesday was unanimous. '
Bloody Hell
,' they tweeted, reserving special praise for the performances of
Shahid Kapoor and Kangana Ranaut
:
Woke up with "Bloody Hell" in my head! Specially loved Julia-Nawab Malik together! @shahidkapoor. #Rangoon#Kangana i love u!

— Kriti Sanon (@kritisanon) February 23, 2017
Another masterpiece by #VishalBhardwaj Power packed performances & magical cinematography! Cinema at its best! #SaifAliKhan#KanganaRanautpic.twitter.com/QZOfgiv5Ku

— Suniel Shetty (@SunielVShetty) February 23, 2017
Nawab Malik,U were outstanding!Perfect justice to D character!Loved meeting Mira, such a sweetheart. God bless U both @shahidkapoor#Rangoonpic.twitter.com/iQdyDIV5bh

— Suniel Shetty (@SunielVShetty) February 23, 2017
Watched #Rangoon last night! Bloody Hell!!! Wow. Lovely #Vishalbhardwaj@shahidkapoor#KanganaRanaut#SaifAliKhan@WardaNadiadwala

— Elli AvrRam (@ElliAvrRam) February 23, 2017
#Rangoon! Intense film. Great performances.. Superb camerawork & Production! @NGEMovies keeps increasing it's spectrum.@WardaNadiadwala.

— Avinash Gowariker (@avigowariker) February 23, 2017
Watched Rangoon,Outstanding movie,fabulous characters well done @shahidkapoor#KanganaRanaut@SaifOnline#RangoonScreening must watch

— mandana karimi (@manizhe) February 22, 2017
Go on a lyrical trip to a bygone enchanting era woven together by love that you can die for #Vishalbhardwaj is simply #Hollywood#Rangoon.

— Randeep Hooda (@RandeepHooda) February 22, 2017
Kriti Sanon, Suniel Shetty, Elli Avram and others were pictured being driven to the screening of
Rangoon
: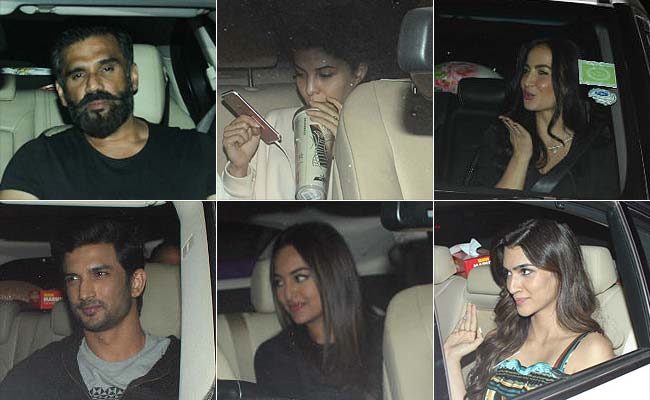 Rangoon
, director Vishal Bhardwaj's first film with Kangana Ranaut, second with Saif Ali Khan and third with Shahid Kapoor, is set in Burma but was filmed in Arunachal Pradesh under difficult conditions.
There have been reports of Kangana being difficult to get along
with on set and comments that she and Shahid have made about each other in interviews recently appear to indicate animosity, no matter how much they might disclaim a fractious working relationship. Shahid has said Kangana 'makes things up in her head,' a quote that the actress
accused him of 'borrowing' from Hrithik Roshan
, whom she publicly feuded with last year. In her most recent interview to news agency PTI, Kangana Ranaut said she keeps relations with colleagues 'formal' while working on a film.
Rangoon
opens tomorrow, alongside M Night Shyamalan's Split and the Oscar-nominated
Lion
, starring Dev Patel.