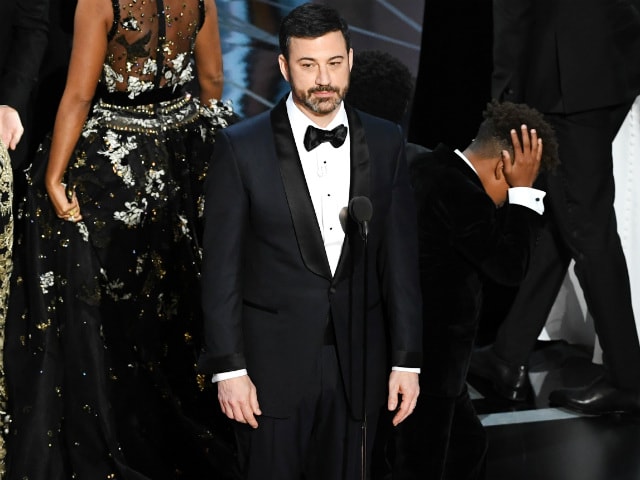 Highlights
'Everyone stood around shell shocked,' said Jimmy
'And then I ended the show,' he added
'Whatever confusion there was, Matt Damon lost,' he said
New Delhi:
Jimmy Kimmel hosted the 89th Academy Awards and lived to tell the tale. He told it on his show
Jimmy Kimmel Live
last night, the post-Oscar episode. For those of you who don't know (and whoever you are, one word - really??),
Bonnie And Clyde
co-stars Warren Beatty and Faye Dunaway came out to present the last and
biggest award of the Oscars
- Best Film - and Mr Beatty, visibly confused by the name on the card in the envelope, handed it to Ms Dunaway. She took it and read out -
La La Land
. The producers and cast of the film crowded onto stage and then, a couple of minutes into the speeches, it was announced that
Moonlight
was the actual winner.
The Oscars ended in utter chaos
, described by Jimmy Kimmel on his show later as 'the weirdest TV finale since Lost."
"
La La Land
was somehow simultaneously the biggest winner and loser last night. You know it's a strange night when the word envelope is trending on Twitter," Jimmy said, then explained how it felt to experience 'envelopegate.' Turns out, he had gotten off stage and was sitting with Matt Damon with the intent of ending the show from there. "Whatever confusion there was about who won, Matt Damon lost. He was a loser. He is a loser," Jimmy said about his faux-frenemy, also a producer of the Oscar nominated film Manchester By The Sea. As the
La La Land
producers spoke, Matt pointed out to Jimmy Kimmel that the stage managers were saying they got the winner wrong. "The stage manager is never on camera, it's very unusual. We're sitting there and figuring that the host will go on stage and clear this up and then I remember, I'm the host," Jimmy revealed.
Just as Jimmy went back up the stairs
, the
La La Land
producers announced that
Moonlight
"got Best Picture, this is not a joke." At that moment, there was 'mass confusion.' Warren Beatty stepped up to the microphone to explain that he had the wrong envelope - the one that
contained Emma Stone
's name as Best Actress for
La La Land
. "That's why I took such a long look at Faye, and at you. I wasn't trying to be funny," Mr Beatty said.
"I'm standing there like an idiot feeling bad for these guys and also trying not to laugh," Jimmy Kimmel revealed. That was when he spotted Best Actor nominee Denzel Washington in the front row, pointing and gesturing, yelling the word 'Barry' - indicating to Jimmy that he should get Moonlight director Barry Jenkins, standing behind him by now, to make a speech. "Thank God Denzel was there to make sense," Jimmy said on his show later.
"Everyone stood around shell shocked and then I ended the show," he added, revealing that as he walked off, people started asking him if he'd pulled a prank. He didn't, he claims. Meanwhile, Faye Dunaway had made a quick getaway.
And the mystery of the envelopes
? There are two envelopes for each award category, Jimmy explained - one serves as a backup.
Watch Jimmy Kimmel explain what 'Envelopegate' really felt like:
Here's the INSIDE story of what happened at the craziest #Oscars ever last night... @TheAcademy@ABCNetworkpic.twitter.com/w6xgsoaXSM

— Jimmy Kimmel (@jimmykimmel) February 28, 2017
Meanwhile, the Academy apologized for the gaffe in a statement: "We deeply regret the mistakes that were made during the presentation of the Best Picture category during last night's Oscar ceremony. We apologize to the entire cast and crew of
La La Land
and
Moonlight
whose experience was profoundly altered by this error. We salute the tremendous grace they displayed under the circumstances. To all involved - including our presenters Warren Beatty and Faye Dunaway, the filmmakers, and our fans watching worldwide - we apologize." There will be an investigation, the Academy said.