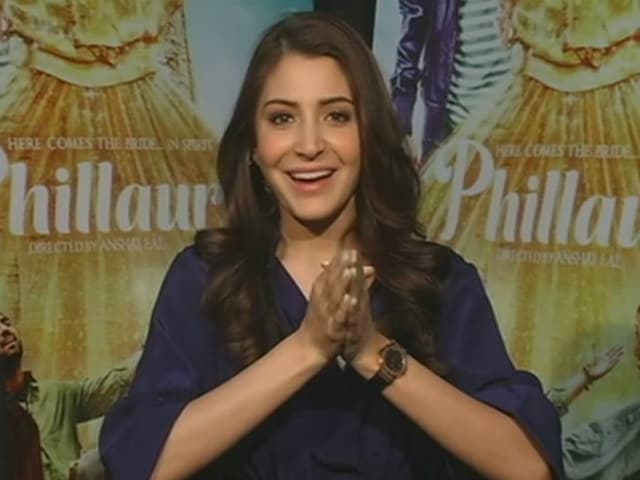 Highlights
'People had started giving their acceptance speech!' Anushka exclaimed
'It was sad I guess, you know,' she said
'I was happy that nobody was crying,' she added
New Delhi:
The Internet, those who watched the Oscars and basically everyone else just cannot stop discussing about the big Best Picture goof-up which made the Academy Awards a lot awkward this year.
Actress Anushka Sharma
, however, is glad that Team
La La Land
was not crying out of joy already in their
brief moment of glory
- it would have made the entire incident seem funny, said Anushka. "I was happy that nobody was crying," Anushka told NDTV. The 28-year-old actress spoke to NDTV ahead of the release of her film
Phillauri
, which co-stars Diljit Dosanjh. The Punjabi actor-singer also shared his views on the Oscar blooper and said he felt particularly sorry for
La La Land
actress Emma Stone, who won Best Actress.
"It was sad I guess, you know, because people had started giving their acceptance speech. I was happy that nobody was crying. Imagine if they were crying and then they were told that this is not your award then that would have been really funny," Anushka told NDTV.
In
Phillauri
, Anushka features as a ghost-bride named Shashi, who was once engaged to a Punjabi sufi singer, played by Diljit. The trailers and songs of
Phillauri
reveal that the the ghost of Shashi, accidentally gets married to a boy played by Suraj Sharma and then begins to follow him like a shadow. In an Instagram post on Thursday, Anushka said she was also present at the Oscars and could spot the mistake much before everyone else.
Meanwhile, this is what Diljit had to add: "Bechari jisko Best Actress mila uska face, uske expression toh aise the ki galti ho gayi unse kitni badi (the Best Actress winner's expression was like that of someone who has made a huge mistake)," said Diljit.
Here's a little backstory, if we must. In the climactic Oscar moment, actors Warren Beatty and Faye Dunaway were called on the stage to announce the winner of Best Picture, which is the biggest award of the night. On his way to the stage, Mr Beatty was handed the envelope for the Best Actress winner. After a slight exchange of looks, Ms Dunaway announced
La La Land
as the Best Picture winner only to be corrected by the film's producer Jordan Horowitz two minutes later, who was later praised by
Moonlight director Barry Jenkins
for his smart handling of the confusion.
Moonlight
was the actual winner of Best Picture. Meanwhile, the two accountants responsible for the handing out the wrong Oscar ballots have been
identified and barred from future shows
.
Video: Watch Anushka Sharma talk about the Oscar incident
:
Phillauri
is actress Anushka Sharma's second movie as a producer after
NH10
. She was last seen in
Sultan
while
Udta Punjab
was Diljit Dosanjh's first Bollywood movie. Directed by newcomer Anshai Lal,
Phillauri
is scheduled for March 24.