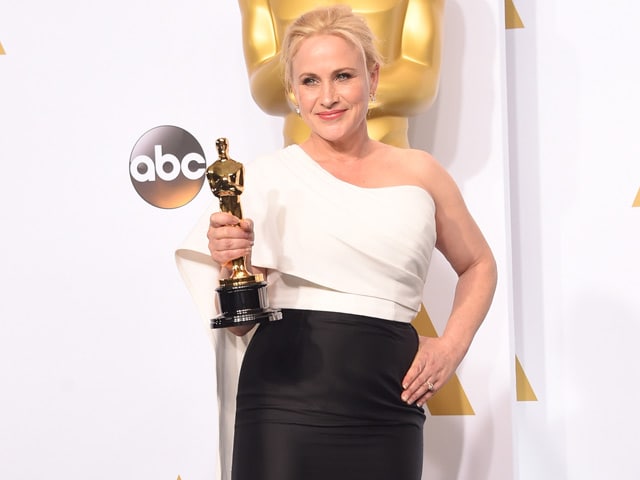 Los Angeles:
Best Supporting Actress winner Patricia Arquette, who made an impassioned appeal for women's equality on the Oscars stage, landed in trouble by calling "people of color" to fight for women's rights in the backstage interview during the ceremony. (Also Read:
It's Time to have Wage Equality, Says Patricia Arquette
)
The
Boyhood
actress got a standing ovation by Meryl Streep during the ceremony on February 22 and much praise in the media.
In her answer to a question whether she had seen Ms Streep's reaction, Patricia, 46, said she had not but she later hugged the veteran actress.
She then went on to elaborate on her onstage comments, saying, "Even though we sort of feel like we have equal rights in America, right under the surface, there are huge issues that are applied that really do affect women. And it's time for all the women in America and all the men that love women, and all the gay people, and all the people of color that we've all fought for to fight for us now." (Also Read:
The Oscars Were About Race, Equality and Acceptance
)
The comment sparked an instant reaction on Twitter with many expressing disappointment.
"People of colour have enjoyed freedom for so, so long and yet we continue to ignore the plight of downtrodden Patricia Arquettes. #ashamed," one user wrote.
"Other than disappearing women of color, trans women, and lesbians, Arquette was great," said another.
Patricia later took to Twitter to defend her comments. She tweeted:
I have long been an advocate for the rights of the #LBGT community. The question is why aren't you an advocate for equality for ALL women?

— Patricia Arquette (@PattyArquette) February 23, 2015
Guess which women are the most negatively effected in wage inequality? Women of color. #Equalpay for ALL women. Women stand together in this

— Patricia Arquette (@PattyArquette) February 23, 2015