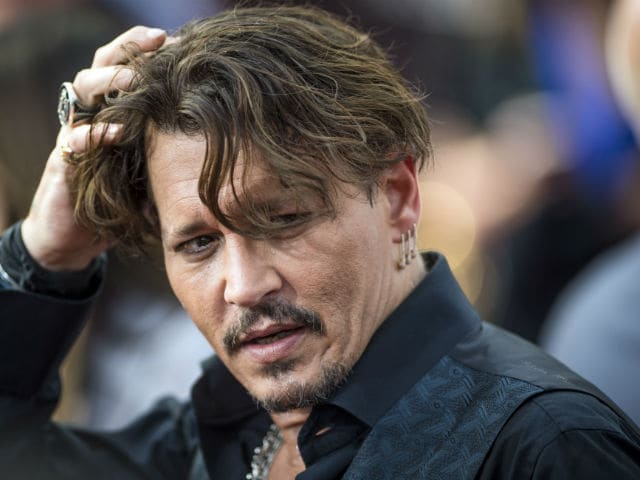 Highlights
"I think secretly Barbossa enjoys our husband wife relationship," he said
Jack Sparrow's new nemesis is Captain Salazar, played by Javier Bardem
"I was amazed watching him, he is so perfect," said Johnny Depp
Shanghai:
Johnny Depp's own team admits he is unpredictable in real life as he is on reel but when the actor met the press in Shanghai, he certainly didn't seem lost in translation. Swaggering down the red carpet at the premiere of the fifth
Pirates Of The Caribbean
movie on Thursday, Johnny Depp seemed to carry a lot of Captain Jack Sparrow with him. At the press conference a day later, he spoke at length about what has become his most famous role, transcending other iconic characters Johnny Depp has played in the past like Edward Scissorhands. He was in fine fettle, describing Jack Sparrow as an 'amoeba' and his relationship with frenemy Hector Barbossa as 'stubborn husband and wife.'
"When you start a character like that, he really has no arc. He would be always like this - ignorant, irreverent, you know how that character can translate. I was always pleased to see the acceptance to Jack. He is like an amoeba - I find the humour and absurdities and I represent it to be stupid and nuts, like a child," said Johnny Depp, who was nominated for an Oscar for playing the swashbuckling high seas pirate in the first film,
The Curse Of The Black Pearl
.
In the fifth, titled
Dead Men Tell No Tales
in USA and
Salazar's Revenge
everywhere else, the love-hate between Johnny Depp's Jack Sparrow and Geoffrey Rush's Captain Barbossa may be nearing its end - what could be the final film in the franchise has found a new nemesis for Jack Sparrow - Armando Salazar, a wrathful and ghostly buccaneer, played by the deadly Javier Bardem.
"I think secretly Barbossa enjoys our stubborn husband wife relationship. I think secretly he has proven to be there for me, he doesn't want me to have anyone else and that's how we have played with our relationship over the years. Bringing in Javier -
we have been friends for a long time
and I have kissed him on the mouth, ya, and even his wife," revealed Johnny Depp.
Javier Bardem (his wife Penelope Cruz starred in the previous
Pirates
film) just got his brief confused, it seems - he claims Salazar was meant to be 'hot and sexy.' At the press conference, he said, "Jerry (producer Jerry Bruckheimer) told me that
Vicky Cristina Barcelona
was a joke, I was meant to be hot and sexy and I said 'I am in' and then they sent me drawings and I was like 'really?'" He was just kidding, folks. "I loved it and I thought he is powerful and, imagine, three hours make up," Javier Bardem said.
Johnny Depp was all praises for both his famous co-stars. "Having Javier in the film as the villain - I was looking forward to see what he would do.
I was amazed watching him, he is so perfect
- black death dribbling out off his mouth. He has played it with such rage and passion but he is such a touching character and so is Geoffrey," he said.
Could this really be the last of Jack Sparrow's adventures? It seems Johnny Depp may have just spilt the beans. "It's been amazing working with such a cast. I wish they hadn't fired me but I will be back," he said (dare we say, joked?). But no fear, Will Turner's son is here - Henry Turner has been added to the dramatis personae and is played by actor Brenton Thwaites (who, before the premiere in Shanghai, had never seem Johnny Depp out of costume). Will there be a
Pirates Of The Caribbean 6
about the adventures of Captain Henry Turner? Never say never.