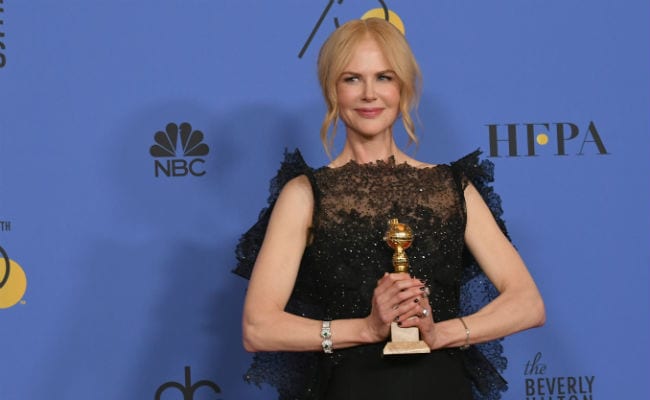 Another Hollywood award show, another speech by Nicole Kidman that had a noticeable absence.
In the very first category at the Golden Globes on Sunday, Kidman accepted the trophy for best actress in a TV movie or limited series.
She won for the HBO drama Big Little Lies
, in which she plays the vulnerable role of Celeste Wright, a lawyer-turned-housewife in an abusive relationship.
"Thank you so much," Kidman exclaimed. "Oh, first cab off the rank. That means my daughters are still awake. So Sunny, Faith, I love you. I'm bringing this home to you, babies."
Sunday ("Sunny") and Faith are the two young children that she has with Keith Urban; she's been married to the country superstar since 2006. However, Kidman didn't bring up her two adopted children, Isabella and Connor, that she shares with her ex-husband, Tom Cruise. The couple wed in 1990 and got divorced in early 2001.
Viewers on social media noticed, especially since the same thing happened at the 2017 Emmy Awards. "Sunday and Faith . . . this is yours. I want my little girls to have this on their shelf and to look at it and go, 'Every time my mommy didn't put me to bed, it's because of this,'" Kidman said after she won for her
Big Little Lies
role.
Multiple observers point to the fact that Cruise is the most famous member of the Church of Scientology, which, according to members, does not take kindly to people who leave the orbit of the church. Actress Leah Remini discusses this in her A&E documentary series that chronicles life after being a part of the controversial religion, and specifically wrote about Kidman and Cruise's children in her 2015 book,
Troublemaker: Surviving Hollywood and Scientology
. (All of this has been condemned by the Church of Scientology.)
According to an excerpt published by the New York Daily News, Remini shared a car to the airport with Isabella and Connor after Cruise's wedding to Katie Holmes in 2006. Remini said that she asked the kids if they had seen Kidman lately, and Isabella responded, "Not if I have a choice" and said her mother is an "SP." In Scientology terminology, that's "suppressive person," and someone who "seeks to upset, continuously undermine, spread bad news about and denigrate betterment activities and groups."
The HBO documentary
Going Clear: Scientology and the Prison of Belief
also alleged that David Miscavige, the leader of Scientology, helped drive a wedge between Kidman and her kids after she and Cruise got divorced.
Cruise, Kidman and their two children has remained a fascination for years in the pop culture sphere - though none of them have a lot to say on the topic. The subject came up repeatedly in 2016 when Kidman promoted her film
Lion
, in which she played an adoptive mother.
"Mystery has surrounded Kidman's relationship with her adopted daughter and son ever since her marriage to Cruise ended, and they chose to grow up with their father in the Scientology church," the Guardian wrote in a profile of Kidman. "Most reports allege that they shunned their mother and remain estranged to this day, but this has never been confirmed by either child or parent, and it would feel both intrusive and pointless to ask Kidman to break decades of silence."
In an interview with Town and Country, Kidman talked a little about her connection with the movie as someone who has adopted kids, though didn't elaborate on any rumors.
"I can see now, for
Lion
that it was important to me because I'm a mother with adopted children," Kidman said. Town and Country wrote that "while her relationship with them has reportedly been complicated, she now states firmly, 'This movie is a love letter to my children.'"
(Except for the headline, this story has not been edited by NDTV staff and is published from a syndicated feed.)