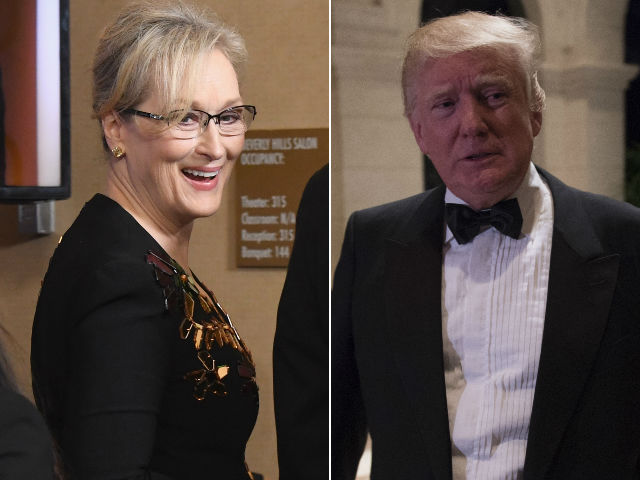 Highlights
Everybody loves Meryl Streep Golden Globes speech except POTUS-in-waiting
She mocked his campaign of xenophobia
Meryl Streep doesn't know me but attacked last night, he tweeted
New Delhi:
Meryl Streep is
everybody's favourite person right now
- except, of course, POTUS-in-waiting Donald Trump and that's hardly surprising. Ms Streep, 67, shredded Mr Trump and his political agenda in a loudly applauded speech at the Golden Globes held in Los Angeles on Sunday night. She
mocked his campaign of xenophobia
by pointing out all the 'outsiders' in the room, including Best Actress nominee Natalie Portman who was born in Jerusalem and Dev Patel who was born in Kenya, is British of Indian origin and was nominated for playing an Indian living in Tasmania. Ms Streep said she was 'stunned' by Donald Trump's performance and not in a good way. Mr Trump wasn't named even once in her speech but there was mistaking who the takedown was aimed at. Meryl Streep, who was speaking after receiving the Cecil B DeMille award, has been cheered across social media today. Would Donald Trump react, many wondered. Hours later, the President-Elect tweeted, taking particular offence to the actress' invoking of a campaign incident in which he allegedly appeared to mock a differently-abled reporter. Mr Trump denies this happened, and furiously issued another denial on Monday.
It's unlikely his counter attack on Meryl Streep, much loved by all of America, is going to go down well - he described her as 'over-rated' and a 'Hillary (Clinton) flunky':
Meryl Streep, one of the most over-rated actresses in Hollywood, doesn't know me but attacked last night at the Golden Globes. She is a.....

— Donald J. Trump (@realDonaldTrump) January 9, 2017
Hillary flunky who lost big. For the 100th time, I never "mocked" a disabled reporter (would never do that) but simply showed him.......

— Donald J. Trump (@realDonaldTrump) January 9, 2017
"groveling" when he totally changed a 16 year old story that he had written in order to make me look bad. Just more very dishonest media!

— Donald J. Trump (@realDonaldTrump) January 9, 2017
At a campaign rally in November 2015, Donald Trump appeared to imitate journalist Serge Kovalski who suffers from a congenital condition that limits the movement of his arms. Mr Kovalski co-wrote a controversial article about the 9/11 attacks and in his rally, Mr Trump said, "Now, the poor guy - you ought to see the guy: 'Uh, I don't know what I said. I don't remember,'" while moving his arms in a manner that mimicked Mr Kovalski.
In her swipe at Donald Trump, Meryl Streep said, "It was that moment when the person asking to sit in the most respected seat in our country imitated a disabled reporter - someone he outranked in privilege, power, and the capacity to fight back. It kind of broke my heart when I saw it." Her damning verdict continued, "This instinct to humiliate, when it's modelled by someone in the public platform, by someone powerful, it filters down into everybody's life, because it kind of gives permission for other people to do the same thing."
Meryl Streep was nominated for a Best Actress - Comedy/Musical award for her performance in and as Florence Foster Jenkins. She lost (to Emma Stone for La La Land) but it's safe to say she was the biggest winner this Golden Globes, with her speech going viral. Ms Streep ended her address by quoting late actress Carrie Fisher: "Take your broken heart. Make it into heart." Something tells us there will be plenty of quoting from her speech in the Trump years to come.