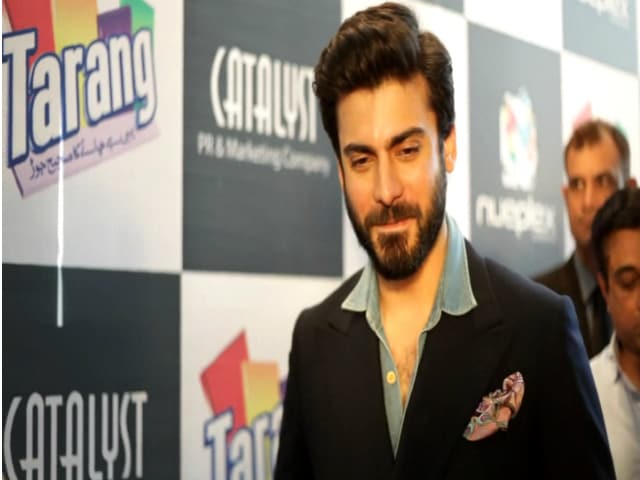 Highlights
Fawad Khan sang a line from Kar Gayi Chull
Fawad said Rishi Kapoor is a living legend
Fawad considers Dharma Productions as his family
New Delhi:
Pakistani actor Fawad Khan's new film
Kapoor And Sons
, co-starring Alia Bhatt, Sidharth Malhotra and Rishi Kapoor, opened last Friday to good reviews and box office receipts. In an exclusive interview to NDTV's Yusra Askari at a recent premiere of the movie in Karachi, Fawad, 34, spoke about the movie, Rishi Kapoor and working with Dharma Productions. (Also Read:
Rishi Kapoor, Fawad Khan and a Hilarious Case of 'Lassi And Sons'
)
Q
: Five takeaways from the filming of
Kapoor And Sons
and what was it like acting in a film with Rishi Kapoor?
Fawad
: Five takeaways? That's a difficult one. I think there's a lot more that are worth remembering. But I would sum it up in words - love, affection, lots of fun, lots of memories and a great time that I'm really gonna miss. Rishi Kapoor is a living legend. Having worked with him is actually an opportunity to learn something. The biggest lesson he has given us is patience because, he used to sit in the make-up chair, get prosthetics done for five hours in the morning and then take two hours in the evening to take them off. So, seven hours of his day used to go by just like that. I think, in this age, it is his motivation, his passion that drives him to work on such things. And that is a very inspiring thing.
Q
: What does
Kapoor And Sons
mean to you as an actor?
Fawad
: I think it's a celebration of family. As an actor I think it sort of takes into account and uses my abilities as an actor. But I think what's more important here is that it's 'a celebration of a family' kind of a film. It's a bit of a lesson that we let go off very easily and we have faced for it every day of life. I think it's a beautiful film made for the love of cinema and not necessarily just for 'I need profit, so let's just plug in this song, plug in
masala
, let's have this kind of a sequence.' It's just 'from the heart' kind of a film, really heartfelt and people have really loved it.
Q
: Can we say you found a new family in the likes of Sidharth, Alia and the rest of your cast?
Fawad
: All of them, all of them. Dharma is a great team to work with. I think what they stand for, what they make - movies that celebrate families. But I think they stand for that by also sort of what is synonymous to the word 'family'. I think Dharma really treats its members like family. Having been part of the family, I have really enjoyed my time working with all these beautiful individuals. I would love to work with them again. (Also Read:
Fawad Khan Says This is More Important Than India vs Pakistan T20 Match
)
Q
: We can't let you go without humming your favourite tune from
Kapoor And Sons
for us and for your viewers in India. Pick your favourite melody from
Kapoor And Sons
.
Fawad
: First of all, I think T20 is gonna happen every year, every four years or three years or whatever the case is. So that's gonna keep on going. But
Kapoor And Sons
is gonna come once. So go and watch that. And for that I will sing you the song ...
O ladki beautiful kar gayi chull
..
Watch: