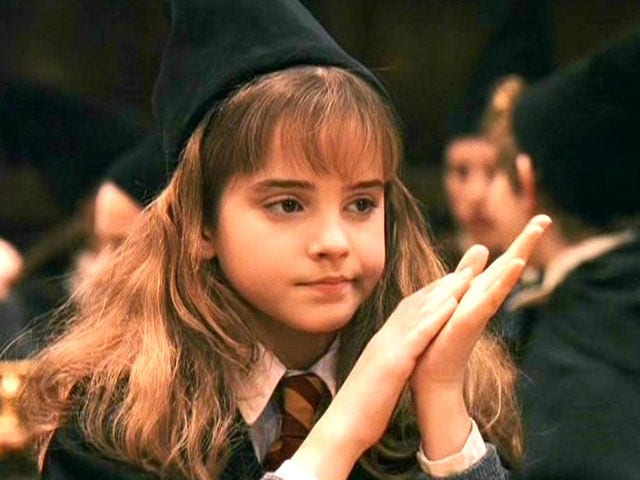 Highlights
Emma Watson started doing Harry potter film at age 9
She used to mouth her co-stars' dialogues
"I couldn't help myself," said Emma Watson
New Delhi:
Emma Watson, star of upcoming film
Beauty And The Beast
, was promoting her film on
Jimmy Kimmel Live!
, when her past caught up with her and made Emma cringe looking at her 9-year-old self in the role of geeky-clucky Hermione Granger. Jimmy Kimmel pulled out an outtake from the first film in the
Harry Potter
series -
Harry Potter and the Philosopher's Stone
- and showed everyone how Emma Watson mouthing her co-stars, Daniel Radcliffe and Rupert Grint's dialogues. Jimmy Kimmel played the clip and said: "I want you watch Emma's lips very closely because she'll explain this to me." Emma Watson was curious before the clip started and later she was visibly embarrassed.
Emma then explained: You laugh, but this was quite traumatic for me because I created issues because of this. Chris (director Chris Columbus) would be like, 'Cut. Emma you're doing it again. You're mouthing Dan's lines.' And I'd be like, 'Oh, I'm so sorry.' But I couldn't help myself. I was such a loser. I really loved those books and I really
wanted to do my job well
and I kind of overdid it."
Watch Emma Watson cringe when she saw herself in Harry Potter:
Emma Watson
stars as Belle in the remake
of Disney's 1991 animated version of
Beauty And The Beast
co-starring
Downton Abbey
's Dan Stevens as the cursed Beast. The film is directed by Bill Condon and also stars Luke Evans, Kevin Kline, Josh Gad, Ewan McGregor and Emma Thompson.
Beauty And The Beast
releases next week on March 17.