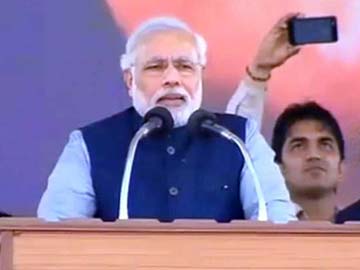 BJP prime ministerial candidate Narendra Modi addressed a rally at Lucknow's Ramabai Ambedkar ground today. Since his anointment as the BJP's prime ministerial candidate, this is Mr Modi's 8th rally in Uttar Pradesh.
Here are the highlights:
Yesterday there was a hail storm in many places...many farmers here have suffered heavy losses.
In these difficult times, I stand by my farmer friends.
In Uttar Pradesh, we have had eight rallies, each bigger than the last one...and today in Lucknow, I see a 'sea of saffron'.
'Aaj yeh aandhi hain, kal yeh Tsunami ban jayega...'
'SABKA vinash tai hain - S for Samajwadi Party, B for BSP and KA for Congress'
You can't hear the strains of qawwali in Lucknow any more, there is just the hustle-bustle of politics...
What has happened to Uttar Pradesh?
I appeal to the people of Lucknow, don't let anyone destroy your culture.
If you have to change the fortunes of India, it must begin in Lucknow.

Today Netaji has accepted defeat...he accepted that he can't compete with the numbers that gather for our rallies.

Today I'm happy that Netaji was forced to talk about development in his speech - this is his second defeat.
150 riots in Uttar Pradesh in the past one year and none in Gujarat in the past ten years...how dare you compare yourself to us.
There have been more than 20,000 cases of atrocities against women in one year in Uttar Pradesh. And Netaji is asking us to explain our actions?
Netaji, your 'song-dance' politics may work but stop using the name of Ram Manohar Lohia.
There are two factions of the Samajwadi Party - Samajwadi and Sukhwadi (Socialist and those who believe in their own comfort).
Netaji, you aren't bothered about development, only interested in votebank politics.
Uttar Pradesh is 10 times bigger than Gujarat.
But only 10% villages get electricity.
Neta ji you asked for 'sher' from Gujarat. You also wanted Amul.
We have provided more returns to milk producers here.
You are all talk but are unable to move forward on the development front.
Look at the ministers from Uttar Pradesh sitting in Delhi. 'Ek mantri koyla kha gaye, dusre mantri aise hain jinhone kaha 70 lakh ka brashtachar nahin hos sakta'.
Ministers in Delhi are involved in the Coal scam.
In the name of NGOs, they are still involved in corruption.
Aandhion ki zid hain jahan bijlee girane ki, meri bhi zid hain wahan ashian banane ki...(I'm determined to set up my house at the place which is most likely to be struck by lightning)
Please go to the streets of Uttar Pradesh, look at the unemployment.
But the ministers are busy talking about secularism.
Poverty, education, agricultural development take a back seat.
They are deviating from the main issues in the name of secularism.
Samajwadi Party only looks at you all as voters not as humans.
Our secularism is 'jodo and vikaas' pathway.
Our's is an article of faith.
For Samajwadi Party it is merely a vote bank tactic.
BJP's power shows that they have made me a PM candidate.
I come from a poor background, a tea seller and the BJP has made me a PM candidate.
The next decade is for the poor, it is a decade to bring about change in the conditions of the poor.
I will be a gatekeeper.
It isn't the Prime Minister's seat that I seek, I seek to serve as a gatekeeper.
I will not let anyone loot the exchequer. I don't care if they come in riding an elephant or a cycle.
Follow NDTV for latest election news and live coverage of assembly elections 2019 in Maharashtra and Haryana.
Subscribe to our YouTube channel, like us on Facebook or follow us on Twitter and Instagram for latest news and live news updates.