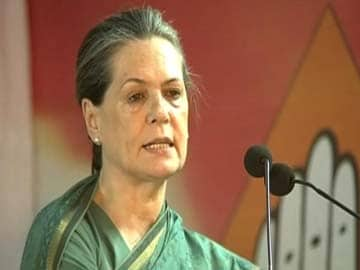 Chevella:
In a frontal attack, Congress president Sonia Gandhi today accused Telangana Rashtra Samithi chief K Chandrasekhar Rao of cheating her party.
"TRS chief did not fulfill his promises, he cheated the Congress. TRS doesn't want Telangana's progress, it wants power," she said while addressing a rally in Andole, Andhra Pradesh.
Addressing a rally earlier, Mrs Gandhi said the TRS played opportunistic politics over the formation of Telangana state, and had joined hands with communal forces in the past.
"TRS leader, K Chandreshekar Rao used to claim earlier that Congress would never give Telangana state, but now he was claiming credit as the separate state had become a reality," she said.
The Congress president was today on the second leg of her election tour of Telangana, where the simultaneous elections to assembly and Lok Sabha will be held on April 30.
Alleging that TRS sided with "communal forces" in the past, Mrs Gandhi maintained that there was no guarantee that it would not do so even now. "We are not seeing the opportunistic face of TRS for the first time. It is suffering from the same disease as the BJP," she said, attacking the individual-centric campaigns of both the parties.
"Future of Telangana would not be secure with such forces. That is why you have to make your decision on electing the first government in Telangana after a careful thought," she said.
She also accused TRS of speaking "the language of intimidation".
She also stated that the period of agitation was over, and hoped that Telangana and Seemandhra people would have cordial relations now.
The Congress president promised that her party would seek national status for Pranahita-Chevella and Palamuru irrigation projects, push construction of a 4,000 MW power plant to address the issue of power shortage and reduction of the burden of farm loan, among other things.
Get Breaking news, live coverage, and Latest News from India and around the world on NDTV.com. Catch all the Live TV action on NDTV 24x7 and NDTV India. Like us on Facebook or follow us on Twitter and Instagram for latest news and live news updates.