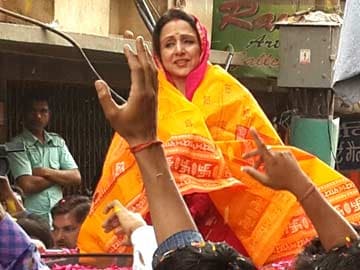 Three women from south India, all film stars, are braving rough country to contest the general elections from western Uttar Pradesh, a region that does not rate high on gender equality.
This is the Hindi heartland, where women make up almost about 45 per cent of the population, but have hardly contested elections owing to the conservative caste politics that has dominated this landscape. The writ of
khaps
or all-male village bodies that some have even equated to kangaroo courts, is law in many parts of this region and gender discrimination makes headlines very often.
(Elections schedule)
In Meerut, 39-year-old Congress candidate Nagma finds it difficult to step out of her car, so heavily mobbed is she as she campaigns. But the actor seems most comfortable in the UP heat and dust, far away from her posh Mumbai home.
There have been irritants though. More than her main rival the BJP's Rajendra Agarwal, her battle so far has been with over-excited crowds, eager to get a glimpse of the star. At times people have got too close. In one instance, she allegedly slapped a man who tried to grope her.
(Neither did anyone try to kiss me nor did I slap anyone: Nagma)
In another she was seen on camera angrily shrugging off the hand of a Congress MLA Gajraj Singh. She has denied that he tried to kiss her.
But in her entourage, Nagma includes bouncers for security.
She is the only woman candidate fielded by a big political party in Meerut, considered a BJP stronghold. The seat is held by the BJP and three of the five MLAs of Meerut are from the party as is the city's mayor.
The actor is not overwhelmed by the "outsider" tag.
"If so, Modi is an outsider in Varanasi, Sushma (Swaraj) in Vidisha and L K Advani in Gandhinagar," she says.
In neighbouring Bijnor, another star is drawing crowds.
Jaya Prada is not a debutant, nor is she new to UP. She has won the last two elections from Rampur as a Samajwadi Party candidate. This time she is contesting as a member of Ajit Singh's Rashtriya Lok Dal (RLD).
At her road show in the narrow lanes of the Chandpur market, she points to a cinema hall where one of her fiilms is showing. She calls UP her
karmabhoomi
or workplace and seeks votes in Bijnor on the basis of her stint as Rampur MP.
(Case filed against Jaya Prada for violating model code of conduct)
"The Lok Sabha is a very difficult task. You have to leave your stardom behind in Mumbai and come down here as a normal person. But I don't have to introduce myself, that's the bonus of films. My work speaks, that's the bonus of politics."
Jaya Prada, who was best known for playing demure characters in her films, says politics has changed her image.
"I played subdued characters who wept. But my image has changed. They used to call me the
goongi gudiya
(dumb doll) because of my film
Sargam
, but now I am a lioness".
The RLD has retained the Bijnor seat since 2004, but last year's communal violence in this region is expected to affect traditional vote bank calculations.
Amid deeply polarised politics, the BJP has fielded against Jaya Prada, Kunwar Bhartendra Singh, an MLA accused of making a hate speech just before the riots tore through the Muzzafarnagar and Shamli districts in this region in September 2013.
Not far from Bijnor, in the land of Lord Krishna, the original "dream girl" of Bollywood is weaving dreams for Mathura, promising change.
Hema Malini is the BJP's candidate in a seat held by the RLD. Her opponent is Ajit Singh's son Jayant Choudhary, Jat leader and sitting MP in constituency that has 3.5 lakh Jat voters.
Hema points out, "I'm a Jat
bahu
(daughter-in-law)...I am no different." The 65-year-old star is married to actor Dharmendra.
Hema Malini does not mingle with the crowds. She interacts with voters from the cool confines of her Audi as it drives through the narrow by-lanes of Vrindavan.
(Elections: full coverage)
"I can't just get out and go into the crowd. I have my limitations. Being a celebrity and artist, people want to reach out and touch...we have to safeguard ourselves," she explains.
If Hema Malini wins Mathura, she will be the first woman MP from here.
"Dharamji was not very comfortable" with the idea of her contesting Lok Sabha elections, she shares.
She says the BJP gave her a choice of seats. "I chose Mathura since I have a 20-year old link with Braj Bhoomi."
"We are like the three
shaktis
(Hindu Goddesses) in this region -- like Mahalaxmi, Mahakaali and Mahasaraswati," says Jaya Prada.