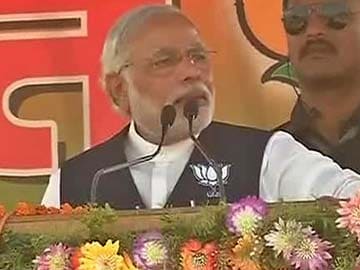 Buxar:
Packing four quick rallies in two states into seven hours,
Narendra Modi
said on Tuesday that the result of the general election that begins in nine-phases on Monday is known already.
Speaking in Buxar, Bihar, the BJP's prime ministerial candidate said, "In this poll, the whole of India is fighting. This is the first election ever where the results are known before polling."
He sought the people's blessings, not to win the election, but to be able to "fulfill this task that there is nobody without a home," in seven years from now. (
Full coverage: India Votes 2014
)
Mr Modi said his endeavour would be to ensure that by the 75th year of India's independence, "there should not be a poor man who does not own a house with basic amenities such as water, electricity and toilets as well as facilities for education and health."
The public, he said, wants to change the government. "Sonia Gandhi's government is running the country for the last 10 years but has it fulfilled the aspirations of the farmers, the workers, the youth or the dreams of the mothers and sisters...how long can we tolerate them," the BJP leader asked.
Most opinion polls and surveys
have projected Mr Modi as the frontrunner for the country's top post. They say his party is likely to be the single-largest party, but could fall short of a majority in the Lok Sabha.
Sharad Pawar, chief of the Nationalist Congress Party, an ally of the ruling Congress has raised eyebrows by reportedly predicting in an interview to a Marathi daily that the BJP will be the single largest party in these elections and the Congress will come in second. (
Read
)
But Mr Pawar assesses that Mr Modi will not be the country's next Prime Minister.