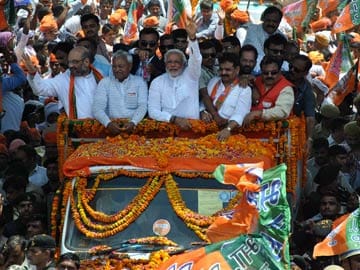 New Delhi:
Prime Minister
Narendra Modi
has resigned from his Vadodara seat and will be a member of Parliament from Varanasi, the ancient temple town in Uttar Pradesh. He was expected to retain Varanasi. (Read:
Narendra Modi Wins By Huge Margin in Vadodara
)
The Lok Sabha Speaker will process the resignation and forward it to the Election Commission, which will then declare the seat, in Mr Modi's home state Gujarat, vacant. Fresh elections will be held for the seat.
"Resigned from Vadodara LS seat. Due to people's affection got elected by historic margin. Will always remain grateful to people of Vadodara, (sic)" PM Modi tweeted this evening.
In another tweet, he said "I assure people of Vadodara I will leave no stone unturned in ensuring that Vadodara's development scales newer heights in the years to come," and added "I will represent Varanasi in Lok Sabha & I look forward to this wonderful opportunity to serve Ganga Maa & work for Varanasi's development. (sic)"
In his first ever general election, Mr Modi had contested both seats and had won them by huge margins. Vadodara sent him to Parliament with a near record margin of 5,70,128 votes.
In Varanasi, Mr Modi was challenged by Aam Aadmi Party chief Arvind Kejriwal, whose entry into the fray had turned it into one of the most keenly watched battles of these elections. In the end, however, Mr Kejriwal was swept away, losing by more than 3 lakh votes.
(Narendra Modi, Arvind Kejriwal Locked in Blockbuster Battle in Varanasi
)
On May 16, the day votes were counted, Mr Modi, then chief minister of Gujarat, spoke his first words in public in Vadodara, thanking the town profusely for his victory despite him having given very little time to campaigning there. (
PM-Elect Narendra Modi Made Magnanimous Victory Speech)
Mr Modi's contest from Varanasi was scripted by his close aide Amit Shah as part of his strategy to ensure a big win for the BJP in UP. The BJP swept UP, winning 71 of the state's 80 seats. (
How Amit Shah Delivered Uttar Pradesh For the BJP )

In Gujarat, the BJP has won all 26 seats.