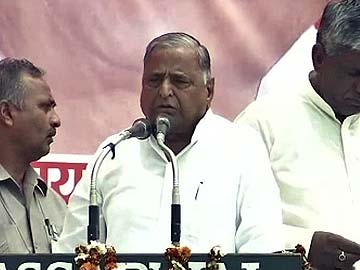 Mumbai:
Public prosecutor in the Shakti Mills gang rape case today criticised Samajwadi Party (SP) leader Mulayam Singh Yadav for his rape remark saying that such statements would provoke criminals to commit serious crimes.
"It is most unfortunate that Mulayam, being a politician of a tall stature, makes such a baseless and unwarranted statement that the boys who had been given death penalty in the Shakti Mill gang rape case might have committed mistake," special public prosecutor in the case Ujjwal Nikam said.
If politicians make such statements, it would provoke young criminals to commit such serious crimes because of the support they were getting from the leaders of the country, he added.
Questioning the death sentence to three convicts in two gang rapes in Mumbai, Mulayam Singh had asked, "Should rape cases be punished with hanging?
"Ladke, ladke hain. Galti ho jati hai (Boys are boys. Mistakes happen sometimes)," he had said in an election rally in Moradabad two days back.
The SP leader had said there was a need to change the new rape law which provides for death sentence to repeat rape offenders.
Mr Nikam wondered whether Mr Singh was aware of the facts of the gang rape case and also how and under what circumstances were the two innocent women gang raped by the three criminals who were given death in the cases.
"Rape is a heinous crime against women and the society and the laws have aptly prescribed death penalty in repeat rape cases. Such statements of politicians glorify rapists and amount to challenging the authority of law and indirectly trying to disturb the democratic system of the country," Mr Nikam said.