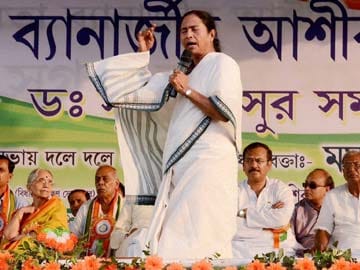 Kolkata:
After
Narendra Modi
said illegal Bangladeshi immigrants would be deported if he came to power, a furious
Mamata Banerjee
today retorted that the "people of Bengal will throw him out".
On a day marked by a war of words between her Trinamool Congress party and the BJP's prime ministerial candidate, Mamata Banerjee lashed out at Mr Modi for accusing her of welcoming Bangladeshi immigrants for votes. (Read:
Come May 16, Bangladeshi immigrants must pack up, says Modi
)
"Mr Modi wants to pack off Bengalis from India. Who is he to decide?" the Chief Minister said, adding that Bangladeshis came to India under a pact signed in 1971 by then prime minister Indira Gandhi and the first president of Bangladesh, Sheikh Mujibur Rehman. (
Full Coverage: India Votes 2014
)
"Mr Modi does not know history. He does not know that speaking in Bangla does not make one a Bangladeshi. Modi wants to divide Bengalis and non-Bengalis. Anyone who speaks in Bangla across India is branded a Bangladesh. This is discrimination. If on Bengal's soil he says Bangladeshis will have to pack their bags and go, people of Bengal will throw him out."
Ms Banerjee said the Election Commission should take action against Mr Modi.
At a rally in Serampore in the state on Sunday, Mr Modi had said, "You can write it down. After May 16, these Bangladeshis better be prepared with their bags packed."
Targeting the ruling Trinamool, Mr Modi said, "You are spreading the red carpet for vote bank politics. If people come from Bihar, they are outsiders to you. It people come from Odisha, they are outsiders to you. But if some Bangladeshi comes, your face seems to shine. This country cannot run like this. We won't allow you to destroy the country for the sake of your vote bank politics."
Deporting illegal Bangladeshi immigrants has always been a part of the BJP's agenda, but Mr Modi's sharp comments indicated it could move beyond rhetoric if the party comes to power after the national election.