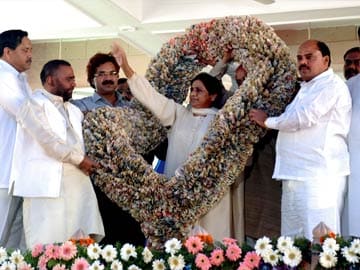 In 1995, at the age of 39, Mayawati became the first Dalit chief minister of Uttar Pradesh. Nineteen years later, as her party, the Bahujan Samaj Party, or the BSP, gears up for the Lok Sabha polls beginning next month, she is hoping fervently that the election throws up a badly fractured mandate to enable her to realize her dream of becoming the country's next prime minister.
But to become India's first Dalit prime minister, she faces challenge from two women hopefuls, Mamata Banerjee and J Jayalalithaa, who, like Mayawati, are neither aligned with the BJP-led National Democratic Alliance (NDA), nor with the Congress-led United Progressive Alliance, (UPA). In the 2009 Lok Sabha polls, the BSP had won 20 Lok Sabha seats, all of them from Uttar Pradesh. NDTV opinion poll suggests that Ms Banerjee's Trinamool Congress and Ms Jayalalithaa's AIADMK will perform better than the BSP, which is predicted to win 15 of the 80 seats in Uttar Pradesh, five less than its 2009 tally.
Mayawati may have gone public with her desire to rule the country after the national elections, but her political graph has taken a nosedive in the past couple of years. In the assembly elections held in Uttar Pradesh two years ago, the BSP was dislodged from power by a young Akhilesh Yadav, whose Samajwadi Party bagged 224 of the 403 seats, riding on the promise of providing a clean and honest government.
The broad social coalition crafted by the BSP chief over five years ago is in disarray. Brahmins and the other upper castes, who had come to epitomize the Sarva jan Hitay, Sarvajan Sukhay slogan coined by Mayawati, have deserted her party, stung by a string of cases foisted on them under the SC/ST (Prevention of Atrocities) Act, popularly known as the Harijan Act.
For the Muslims, the Samajwadi Party was always the No 1 destination. As the Akhilesh Yadav government battles charges of failing to prevent communal riots in the state, the community, wary of the BSP's association with the BJP in a power-sharing experiment in the state twice in the past, remains indifferent to Mayawati's overtures.
Having been unseated from power in Uttar Pradesh, the four-term chief minister of Uttar Pradesh, known for obsession with diamond and gold jewellery, is perhaps fighting the most important electoral battle of her life. But she is known to be an indefatigable and gritty campaigner, having led her party to a sensational triumph in Uttar Pradesh in 2007, when it won a majority on its own in the state assembly for the first time ever.
Mayawati was born in New Delhi in 1956 in a lower middle class family. Her father, Prabhu Das was a low-level clerk in the postal department, and it was her grandfather, Mangal Sen, who brought her up. She completed her graduation from Delhi University's Kalindi College in 1975, and took up the job of a teacher in a school in Inderpuri soon after to earn a living. But she dream of becoming an IAS officer and, after enrolling herself for a LLB course in DU's Campus Law Centre, she was prepping for the Civil Services exam in 1977 when a visit by Kanshi Ram, who was then heading All India Backward and Minority Communities Employees Federation, or BAMCEF, changed her life. He encouraged her to join politics, and when he floated his own party, the BSP in 1984, Mayawati was made a member of his team.