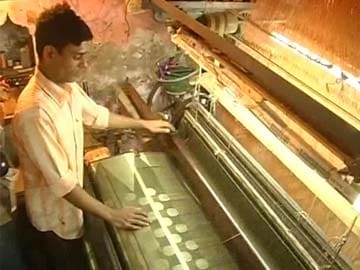 Varanasi:
In the holy town of Varanasi, Muslim weavers famous for the exquisite 'Banarasi sari' are a critical community to be won over. This election may prove that the community does not always vote as a monolith.
At Lallapura, a densely populated Muslim locality, almost every house has a weaving machine that works the magic of the Banarasi sari. Narendra Modi's candidature from Varanasi has awakened these quiet bylanes with an unprecedented political buzz.
Traditionally, the 15 per cent Muslim votes in this area have backed so-called secular parties but this time, it is no longer a given.
Arif Mohommad, a principal at a minority college, says, "Muslims lack the electoral intelligence of the Dalits who come together and transfer their vote for one party. But Modi's coming here may change that."
The BJP's prime ministerial candidate stirs strong emotions here.
"How can we support someone who presided over the Gujarat riots?" questions Rustam Khan, a wholesale sari trader, who says his opposition to Mr Modi is non-negotiable.
Mr Modi's critics say he didn't do enough to protect Muslims during the 2002 riots in his Gujarat, but a Supreme Court-backed investigation has found no prosecutable evidence against him.
Rustam Khan's views, however, don't reflect the broad sentiment in a region craving development and good governance, the kind that Mr Modi flaunts in Gujarat.
Noor Khan is pragmatic and says he will back Mr Modi. "Why waste a vote on a losing candidate?" he asks.
Rizwan Khan, a third generation weaver, says supporting the Congress is no longer an option for him. "Why should we support someone who gave us only price rise?" he wonders.
Muslims are also seen as disenchanted with the state's ruling Samajwadi Party, which has been accused of mishandling the Muzaffarnagar riots last September.
That leaves Aam Aadmi Party leader Arvind Kejriwal, who plans to challenge Mr Modi in Varanasi.
75-year-old Haji Mohammad said, "Corruption affects everyone, Hindus and Muslims, and AAP fights against it."
Mr Kejriwal has said he will ask the people of Varanasi whether they want him to contest against Mr Modi. But he lacks the means or manpower to match the hype, say his critics.
Determined to prove Mr Modi's popularity, the BJP's minority cell chief Salim Mohommad takes us deeper into Lallapura.
What follows is a heated exchange over how Mr Modi, like the sitting BJP MP Murli Manohar Joshi, is an outsider. A young man grabs a mic and says that he doubts Mr Modi will visit Varanasi after he wins. The BJP activists are booed and forced to leave.
The only Muslim contestant is criminal-turned-politician Mukhtar Ansari, who gave the BJP a fight in the 2009 despite finishing second. He fought the election on a BSP ticket and lost by just 16000 votes. Many believe this time, he could emerge the real challenger to Mr Modi.