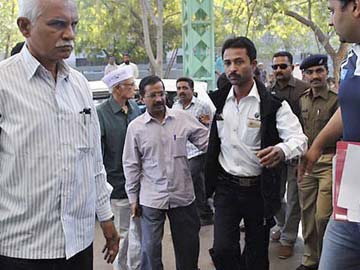 Ahmedabad:
The Aam Aadmi Party has complained to the Election Commission after a series of cases against Arvind Kejriwal and other party leaders since yesterday.
The AAP chief has been booked by the Gujarat police for violating the election code of conduct after he used loudspeakers and microphones in Gandhidham in Kutch allegedly without permission. The police have lodged a First Information Report or FIR against Mr Kejriwal and five others.
Earlier, the Election Commission had also said that Mr Kejriwal by not taking police permission for his road-show has violated the model code of conduct.
Mr Kejriwal says he is in Gujarat to check on the claims of uber-development brandished by
Narendra Modi
, the BJP's candidate for prime minister, who has governed the state since 2001. So far, Mr Kejriwal says, he has seen no evidence of the clean and effective governance that Mr Modi offers as his main qualification for running the country.
Mr Kejriwal, 45, was detained briefly on Wednesday at a police station in the western town of Radhanpur where he was asked to explain why he had not got clearances for his large convoy. Once elections are called, the code of conduct applies and any political procession requires police sanction.
"If you go strictly by law, Mr Kejriwal violated the model code of conduct. The whole world knew that the code was in place after the announcement of the national election dates in the morning," Election Commissioner HS Brahma told NDTV.
Mr Kejriwal's detention triggered egregious street battles in Delhi and Lucknow where his party workers gathered at BJP offices to protest against what they described as their leader's harassment in Gujarat. (
Pics
) Several AAP leaders were booked for rioting and 14 were arrested. The police have blamed AAP for instigating the violence, an accusation Mr Kejriwal's colleagues firmly reject.
Mr Kejriwal is being escorted by 10 police cars, a consequence of an attack on Wednesday on his convoy which left the windshield of his car shattered.