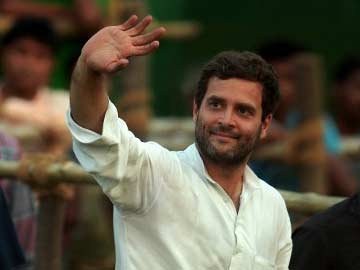 New Delhi:
As the scion of India's most famous dynasty,
Rahul Gandhi
was meant to work some much-needed family magic over the ruling Congress party.
But after a lacklustre election campaign during which he struggled to connect with voters and was outshone by his sister, he came under more fire this week for going missing at a crucial time. (
India Votes 2014: Full coverage
)
At a farewell dinner for outgoing Prime Minister Manmohan Singh, Mr Gandhi was conspicuous by his absence, generating another round of negative headlines for a man derided as a "princeling" by the country's likely next leader,
Narendra Modi
. (
Read: Rahul Gandhi Faces Sharp Criticism for Skipping PM's Farewell
)
Mr Gandhi's mother, father, grandmother and great-grandfather have all led the Congress. Exit polls have indicated that support for Congress has slumped to an all-time low.
Mr Gandhi, whose mother Sonia is party president, was chosen to lead the Congress campaign despite asserting last year that the "power so many people seek is a poison". (
My mother cried, she understands power is poison: Rahul Gandhi
)
His appetite for power has long been questioned and he rejected several offers to enter the government. "He may be a well meaning and decent individual but as a politician he is a failure," said Kay Benedict, a Delhi-based analyst and Congress expert.
It has not helped that his younger sister Priyanka brims with the charisma Rahul is accused of lacking, a point starkly illustrated during the campaign when she emerged in the latter stages.
He has been at his most impassioned defending the secular tradition personified by his great-grandfather Jawaharal Nehru, India's first prime minister whose socialist model framed the post-independence economy.
Mr Gandhi has called the election "a clash between these two ideas of India", attacking Mr Modi over communal riots that killed more than 1,000 people - mostly Muslims - in Gujarat in 2002 after he had taken over as chief minister. (
Rahul Gandhi takes on Narendra Modi over 2002 riots, questions 'clean chit'
)
Mr Modi, the son of a tea-seller, has in turn enjoyed riling Rahul as "shehzada" or prince who has no concept of the everyday challenges faced by India's masses, calling for an end to the "mother-son" government.
While Mr Gandhi's upbringing was as gilded as Modi's was humble, it was also seeped in tragedy.
He was 14 when his grandmother, prime minister Indira Gandhi, was assassinated by her Sikh bodyguards in 1984 as revenge for the storming of the Golden Temple in Amritsar.
His father, Rajiv Gandhi, was then pressed to take over as premier. Seven years later, Rajiv was assassinated by a Tamil suicide bomber.
With Mr Gandhi studying at Harvard, it was left to his mother Sonia to pick up the mantle and lead the Congress back to power in 2004. She declined to become premier.
After office jobs in London and Mumbai, Mr Gandhi entered politics and parliament a decade ago.
But he is widely criticized for spending little time in his constituency and rarely speaking in parliament. A leaked US diplomatic cable, written in 2007, said he was "widely viewed as an empty suit".
"Rahul Gandhi was just not able to communicate, he spoke in riddles," said Mohan Guruswamy from the Centre for Policy Alternatives, a Delhi-based think-tank, as he assessed the Congress campaign.
For now, the party leadership is rallying round Mr Gandhi, arguing the result will be in effect a verdict on a government which he did not enter.
"All this discussion is absurd," said Foreign Minister Salman Khurshid when asked for his view on the exit polls. "Rahul Gandhi is our leader and he will remain our leader in good and bad times."
Asked before the election if he would take full responsibility for defeat, Mr Gandhi replied: "If we don't win, I am the VP of the party of course I will take responsibility for it."