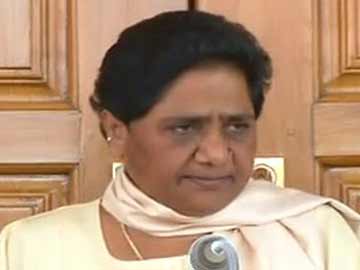 Lucknow:
Exactly a week before votes are counted in the mammoth general election,
Mayawati
has emphasised that her Bahujan Samaj Party will not support a
Narendra Modi
-led government at the Centre.
The BSP chief referenced a television interview of Mr Modi, the BJP's prime ministerial candidate, to make her assertion.
"Narendra Modi has said in his latest interview that if he does not get a majority in parliament, he could seek the support of
Jayalalithaa
, Mayawati and
Mamata Banerjee
. I do not know about the other parties, but the BSP will not support Modi," she said at a press conference. (
Also Read: Modi Can Change Secular Credentials of Constitution: Mayawati
)
Ms Mayawati accused Mr Modi of "reaching out to us" with an eye on wooing Muslim voters and said this proved that it was doing badly and that there was no "Modi wave" in the country.
She also accused the BJP of "attempting to finish the BSP movement" in 2003, saying she had rescued the party then. (
Also Read: Modi Distorting Statement to Play Backward Caste Card: Mayawati
)
"They filed a case against me and got the CBI to investigate it," Ms Mayawati recalled.
Opinion polls predict that the BJP will get the maximum number of seats, but also that it could fall short of a majority.
Since the beginning of the general elections the three women regional powerhouses - Tamil Nadu chief minister J Jayalalithaa, West Bengal chief minister Mamata Banerjee and Mayawati - are seen as possible allies should Mr Modi need them.
All of them have partnered the BJP before, Mayawati most briefly.
Each has also attacked Mr Modi while campaigning in these elections. Like Mayawati did today, Ms Banerjee has vehemently said she will not support a Modi government.