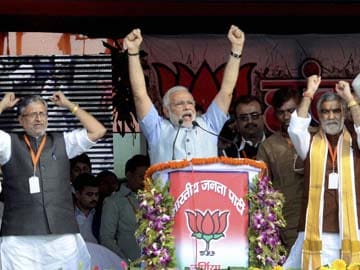 The BJP is expected to end some suspense tomorrow on where Narendra Modi, its prime ministerial candidate, will contest the general elections from.
There is speculation that the party could field Mr Modi from a seat each in Uttar Pradesh and Gujarat. Varanasi in UP is being discussed and party sources hinted that he may choose to also contest from either Ahmedabad East or Vadodra in Gujarat, his home state .
The party's 19-member Central Election Committee, which has on it top leaders like Mr Modi, Rajnath Singh and LK Advani, will meet tomorrow to finalise candidates. Sources said the BJP plans to contest 450 of the 543 Lok Sabha seats to which elections will be held;. it has already announced 106 candidates and will now pick the remaining 344.
"The Cec will on March 13 first take up the states and seats where there is unanimity on candidates. These are 110 odd seats," a top leader told NDTV. This means, sources said, that no-controversy states like Gujarat are likely to be decided first and if Modi will contest from there, it could be known as early as tomorrow evening.
The leader also said, "Names for the seats which have a contest may be taken by the CEC on March 15. And then may be a last meeting after Holi (On Monday, March 17)."
Varanasi is a controversial seat. A large section of the BJP in UP believes that if Mr Modi contests from Varanasi, it will draw voters in the crucial state that sends 80 MPs to the Lok Sabha and in adjoining Bihar, which sends 40.
But the Varanasi plan faces stiff challenge from senior leader Murli Manohar Joshi, who won the seat in 2009.
If Mr Joshi has to make way Mr Modi in Varanasi, he may have to settle for contesting from Kanpur, where union minister Sri Prakash Jaiswal of the Congress has won the last three times.
The BJP committee will also take a call on the proposal that BJP president and Ghaziabad MP Rajnath Singh should contest from Lucknow. The sitting MP Lalji Tandon has said he is willing to vacate the seat only for Mr Modi. Lucknow was the constituency of former prime minister Atal Bihari Vajpayee, the BJP's gold standard of leadership.