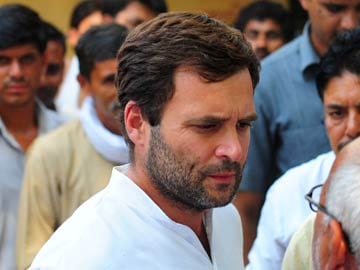 Amethi:
The Aam Aadmi Party spent a good part of Wednesday complaining about what it alleged was violation of election rules by sitting MP Rahul Gandhi as Amethi voted.
They tweeted several pictures of Mr Gandhi in polling booths. One where he stood talking to some people accompanying a tweet that asked, "Does the election commission allow candidates to stand and chat inside polling stations?" Another picture showed Mr Gandhi looking at an Electronic Voting Machine. AAP tweeted, "Is the candidate allowed to go to the polling machine?"
A huge debate raged on social media on who is allowed in a polling booth and how. AAP leader Gul Panag's father, General (retd) HS Panag seemed to speak for Rahul Gandhi when he tweeted, "Can examine voting machine. Obviously no one votes at that time."
AAP also tweeted a video recording of what it alleged was a both-capturing attempt. It did not specify by which party, but in a series of other tweets made specific allegations.
Early on Wednesday morning, the party complained against Mr Gandhi for moving around in a large motorcade. "We have complained to the Election Commission, he was using 24 cars," said Kumar Vishwas, whom Arvind Kejriwal's party has fielded against Mr Gandhi in what has hitherto been seen as one of the safest seats in the country for the Congress.
That Mr Gandhi was in Amethi on polling day and out touring a constituency he has effortlessly won since 2004, was interpreted by his rivals as an acknowledgement that he faces a tough contest this time. AAP claimed credit. So did the BJP which said, "
Kam se kam zameen par to aaye
(At least his feet have touched the ground)... He realizes that Amethi is a tough fight," said the party's Mukhtar Abbas Naqvi.
The BJP's Smriti Irani complained about the presence of Prinyanka Gandhi's political secretary Preeti Sahay at an Amethi polling booth. AAP tweeted its protest. Ms Sahay was asked to leave Amethi in compliance with election rules.
On a day of complaints in Amethi, even Rahul Gandhi complained about the lotus drawn on the blackboard of a village school that was being used as a polling station.