New Delhi:
Protests continued in Tamil Nadu for the third day today against the suicide of a Dalit medical aspirant and anti-NEET court petitioner, with students hitting the streets against the central and state governments. According to Press Trust of India, students and pro-Tamil activists resorted to road and rail blockade and boycotted classes in various districts like Tiruvallore and Kanchipuram. Protests were also held in Coimbatore city, Tiruchirapalli and Thanjavur.
Anitha, a 17-year-old Dalit girl who had moved the Supreme Court against National Entrance-cum-Eligibility Test (NEET)-based medical examinations
allegedly committed suicide
on last Friday. Anitha was the daughter of a poor, Dalit daily-wage labourer, whose dream was to be a doctor.
Anitha, a state board student had scored 98 per cent marks (an impressive 1,176 out of 1,200 marks) in class 12 board examinations. But , in NEET, she did not fair well and missed out on getting a medical seat.
Yesterday, the family of 17-year-old has rejected the
Tamil Nadu government's offer of seven lakh
rupees in financial aid.
NEET 2017: Why Tamil Nadu Is Protesting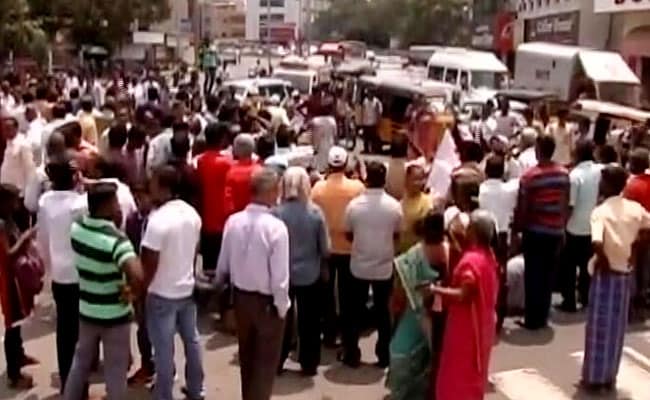 Protests continued in Tamil Nadu for the third day today against the suicide of a Dalit medical aspirant1
. For nine years before the implementation of NEET, the Tamil Nadu government had abolished an entrance exam, granting admission to medical courses based on Class 12 state board marks, saying it allowed students from villages and small towns to enter medical colleges too and last year when the all India medical entrance exam was held for the first time, the Supreme Court had exempted Tamil Nadu from NEET, but this year it refused.
2
. In Bengaluru, Union Minister Prakash Javadekar declined to comment when asked for his reaction to anti-NEET protests over Anitha's death, saying it was an issue which has been decided by the Supreme Court. "National Entrance-cum-Eligibility Test (NEET) is a issue which has been decided by Supreme Court and therefore, I will not make any comments," he told reporters.
3
. Anitha had approached the apex court and she had pleaded before the Supreme Court that poor students like her who lived in villages could not afford private coaching classes that richer students in cities could, giving them an advantage in the competitive exam. But the Supreme Court ordered last month that admissions in Tamil Nadu would be based not on Class 12 marks but on NEET, which Anitha could not crack.
4
. Anitha was reportedly upset after it became known that Tamil Nadu would not be exempt from the ambit of NEET.
5
. In January this year, Tamil Nadu became the first State to introduce Bills in the Legislative Assembly to exempt aspirants from appearing for the NEET for admission to medical and dental colleges and Tamil Nadu Assembly unanimously adopted the Bills before sending it to the President for approval.
6
. On June this, the Tamil Nadu government came out with an order which reserved 85 per cent of MBBS and BDS seats to state board students and only 15 per cent for CBSE and other boards, this was quashed by the courts later.
7
. Amid huge public anger, activists and political rivals have accused both the E Palaniswami government of the AIADMK in the state and the BJP government at the Centre of letting down the state's students.
8.
Union minister Nirmala Sitharaman, who belongs to Tamil Nadu, had promised the Centre's support for an Ordinance or executive order to exempt the state from NEET for a year, but in Supreme Court, the Attorney General said the Centre could not back the move.
9
. The Central Board of Secondary Education (CBSE) had conducted the NEET 2017 examination this year on May 7 and the results were declared on June 23.
10
. After the NEET 2017 examination process was kicked off this year, the examination process witnessed several controversies, including court cases over setting difficult question papers for vernacular language students and protests.
(With Inputs from PTI)
(This story was originally published on September 5, 2017 and updated multiple times thereafter.)
Click here for more
Education News
Get Breaking news, live coverage, and Latest News from India and around the world on NDTV.com. Catch all the Live TV action on NDTV 24x7 and NDTV India. Like us on Facebook or follow us on Twitter and Instagram for latest news and live news updates.