New Delhi:
Jawaharlal Nehru University (JNU) in Delhi will go to students union polls on September 8. The JNUSU elections are conducted on the basis of JNUSU constitution, in which, the students are the sole authority for organising of the student union elections and the administration has no role in the entire electoral process. The student union model adopted by JNU for the election of its office bearers has been praised by the Lyngdoh committee - which was appointed by the Supreme Court and headed by former Chief Election Commissioner JM Lyngdoh to recommend a code of conduct for students' union elections throughout the country - also, as it is free from money and muscle power.
According to schedule, the voting in JNUSU elections will be conducted in two phases on September 8 this year. The counting will start on the same day and may continue for more than 24 hours. Initially, the votes polled in various schools will be counted and then the central panel - president, vice president, general secretary and joint secretary - votes counting will start.
Several features of JNUSU election make the process different from other student union elections which happen across the country, which are special to the political culture of JNU, a Central University.
Democracy
All the political parties with various ideologies are welcome here. You will find several versions of left parties here, starting from Communist Party of India (Marxist-Leninist) backed All India Student Organisation (AISA) to Democratic Students Federation (DSF), a spinoff from Communist Party of India (Marxist)'s Student Federation of India. It does not end there. You may also find All India Students Federation (AISF), which is related to the Communist Party of India (CPI).
Then there are organisations like Birsa Ambedkar Phule Students Association (BAPSA) which calls itself a movement for the oppressed communities - dalits, minorities and bahujan - in the country. BAPSA's electoral performance last year had surprised everyone.
Then there are Indian National Congress's National Students Union of India (NSUI) and Rashtriya Swayamsevak Sangh's Akhil Bharatiya Vidyarthi Parishat (ABVP).
One of the vibrant political campuses in the country, JNU also hosts several other leftist and dalit organisations.
The debates here happen in a different format and JNU rarely witness political violence. Everyone, from the extreme left to extreme right, come out with their own 'Parchas' (pamphlets) and the students from this residential campus debate it. Hardly a day goes by without a Parcha, its content ranging from basic student issues to the latest national-international issues.
The Election Campaign: GMBs, Mashaal Juloos and Wall Posters
Not just during the election time, even after that, JNU students continue being creative. Every political issue or students issue which needs a public attention is brought to the General Body Meetings (GBMs) and the students make decisions based on the discussions happen there. In election time, every schools in the university hosts GBMs and meet their candidates.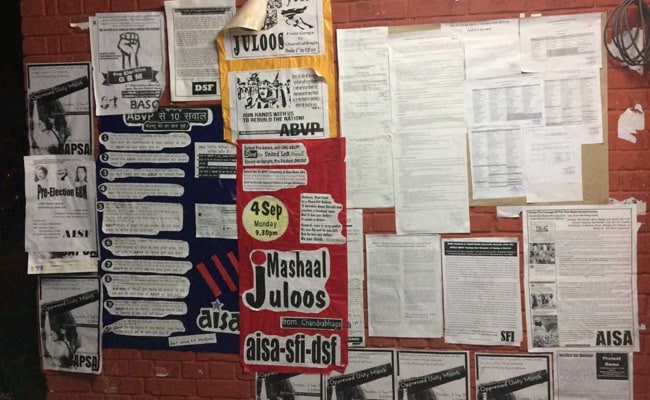 Mashaal Juloos, a firelight procession is another interesting campaigning method you see in the campus. A late night rally with firelights, songs and sloganeering, which is organized from one end of the university to another end, most of the times from the famous Ganga Dhaba to Chandrabhaga hostel or vice-versa. Major orgnisations from the campus organizes it separately.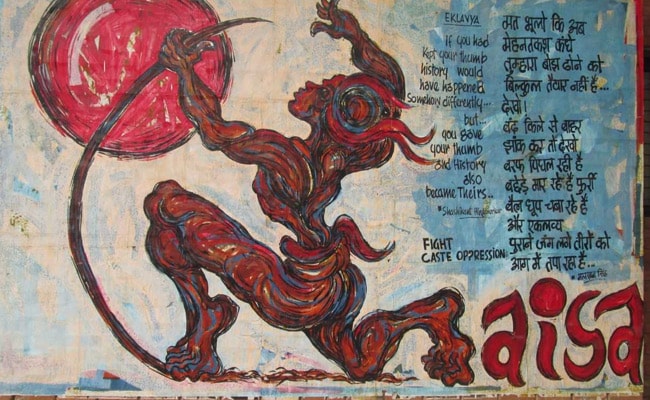 Big wall posters - hand made - are another attraction from JNU.
Presidential Debate
This happens two days before the Student Union elections. This is moment when all the candidates - Presidential - present their sides in front of thousands of students. The debates are conducted in two sessions, one, the candidates deliver a speech and another, they question each other on the manifestos and ideologies.
Every issue under the earth - mostly political - come to the fore here. This year, most of the candidates raised the issues of mob lynchings, disappearance of JNU student Najeeb Ahmad, several policies of NDA government, UGC notification on seat cuts, gender justice, Triple Talaq, murder of Gauri Lankesh, hostel problem and placements.
A student who was present at the presidential debate put it correctly: This is the real JNU festival.
Click here for more
Education News
(This article was first published on September 7, 2017, and then was updated several times thereafter)
Get Breaking news, live coverage, and Latest News from India and around the world on NDTV.com. Catch all the Live TV action on NDTV 24x7 and NDTV India. Like us on Facebook or follow us on Twitter and Instagram for latest news and live news updates.