IIT Bombay Professor Pens Medical Device Innovation Book
Prof. Ravi gifted the book to PM Narendra Modi during his visit to IIT-Bombay for the Diamond Jubilee Convocation.
Education
| NDTV Education Team | Updated: Oct 24, 2018 5:14 pm IST | Source: NDTV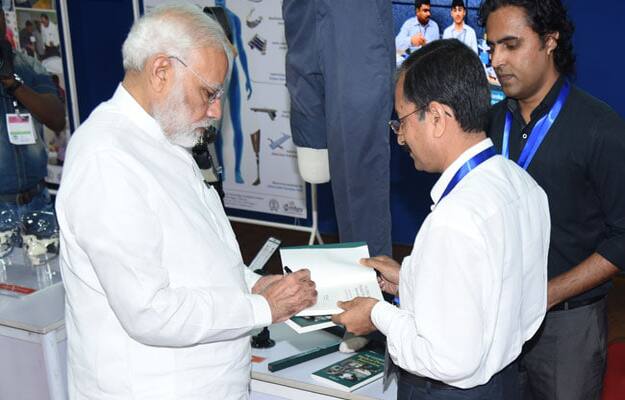 New Delhi:
In a quiet shed within IIT Bombay, a handful of engineers who left their jobs elsewhere started working on innovative medical devices guided by Prof. B. Ravi, supported by the Government of Maharashtra and Central Govt of India. In less than four years, BETiC (Biomedical Engineering and Technology incubation Centre) has grown to 10 centres across the State, where more than 100 doctors and engineers are working together closely to solve the healthcare problems of a billion people.
They have developed and filed patents for 40 different novel and affordable medical devices. Of these 15 products are being put into production; so far 6 startups and 4 other Indian companies have licensed the technologies. Their stories are chronicled in Prof B Ravi's book 'The Essence of Medical Device Innovation', published by The Write Place', a division of Crossword Bookstores.  
A copy of Prof B Ravi's book signed by PM Narendra Modi
Prof. Ravi gifted the book to PM Narendra Modi during his visit to IIT-Bombay for the Diamond Jubilee Convocation. The PM gracefully autographed a copy, much to the delight of BETiC team. He also took time to see four BETiC products - smart stethoscope, flexible laparoscopy instrument, custom medical devices and prosthetic leg, and heard Prof. Ravi explaining their features and applications. 
The smart stethoscope allows doctors in a remote place to record and send heart or chest sounds to experts in tertiary hospitals for second opinion and diagnosis.The first batch of these stethoscopes has been given to 10 PHCs in Bhavnagar. 
The flexible laparoscopic instrument allows minimally invasive yet complex surgical steps like suturing inside the abdomen - by giving surgeons additional degrees of movement compared conventional instruments.
3D printed anatomical models allow doctors to plan and practice the surgery in advance; patient-specific jigs enable accurate cuts; and 3D printed titanium implants allow reconstruction of the resected anatomy. These are very useful in cases like bone cancer in jaw region. 
The novel prosthetic leg combines customized 3D-printed sockets from IIT Bombay, knee joints from IIT Madras and Jaipur Foots from BMVSS Jaipur along with the domain experience of Ratna Nidhi Trust, Mumbai. It avoids the traditional process of making the sockets using plaster of Paris, which is uncomfortable to the patients. The new process is more accurate as well as faster, while keeping the prosthesis highly affordable even for poor people.
Click here for more Education News