New Delhi:
As India was celebrating Children's day today,
Google decided to sport a playful Doodle celebrating 131 years of the hole puncher
. "Today we celebrate 131 years of the hole puncher, an understated - but essential - artifact of German engineering. As modern workplaces trek further into the digital frontier, this centuries-old tool remains largely, wonderfully, the same," said a statement from Google. According to hole punch history records, it was invented by German entrepreneur and inventor Friedrich Soennecken and he filed the first patent for a hole punch, or Papierlocher fur Sammelmappen (paper hole maker for binding) on 14 November 1886.
Google Doodle On Hole Punch And Friedrich Soennecken: 10 Important Things You Should Know​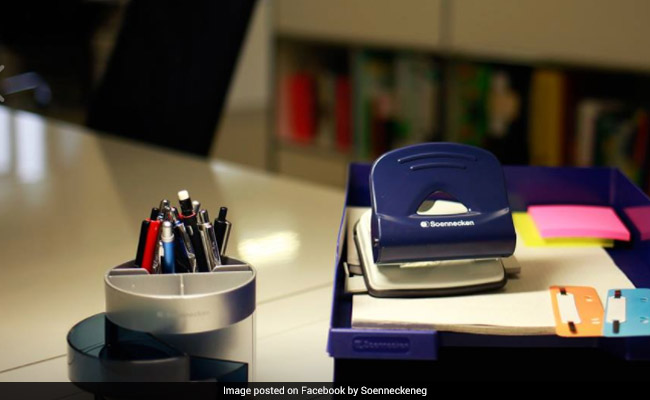 1
. Though there are different records on who secured the first patent for hole punch, Google gives the credit to German Engineering. Friedrich Soennecken who got the patent for hole punch on November 14, 1886 was a German entrepreneur, inventor and also the founder of Soennecken, a German office supplier.
2
. According to
The Independent
, "the first recorded patents for a paper hole puncher was published in 1885, when a man named Benjamin Smith invented spring-loaded hole puncher that had a receptacle to collect those little clips - Smith called it the "conductor's punch"".
3
. It also reported that, a later paper punch was patented in 1893 by Charles Brooks, and that one was referred to as a ticket punch.
4
. Mr Soennecken who secured patent for was a German office supplier from the town of Remscheid who founded his own company, F Soennecken Verlag, in 1875.
5
. According to
The Sun
, Soennecken's wares quickly became renowned for their quality, and his paper and pens were a favourite of German philosopher Freidrich Neitzsche.
6
. Along with the hole punch, the entrepreneur is also accredited with the invention of the ring binder.
7
. "It's a familiar scene with a familiar tool: the gentle rat-tat-tat on the table as you square up a dangerously thick stack of papers, still warm from the printer. The quiet anticipation and heady uncertainty as you ask yourself the ultimate question: can it cut through all this? The satisfying, dull "click!" of the blade as it punches through the sheets. The series of crisp, identical holes it produces, creating a calming sense of unity among an otherwise unbound pile of loose leaf. And finally, the delightful surprise of the colorful confetti byproduct - an accidental collection of colorful, circular leftovers," this is who google described how a hole punch works. Interesting!
8
. Hole punch, which began its journey 131 years ago, now became a necessary part of everyday life for most - for office, students, shopkeepers alike.
9
. Even with the advent of the digital age, the hole punch still remains a household object in offices and schools. But with people shifting to computers and tablets to save and organise information, it remains to be seen for how long this old favourite will continue to stay relevant.
10
. The Google Doodle which celebrates the 131st anniversary of the hole puncher is designed by Gerben Steenks.
Read also:
Anasuya Sarabhai Google Doodle: A Student, A Leader And A Teacher
Sitara Devi: 3 Lessons For Students From Her Exemplary Life
Dr. Hirotugu Akaike: 10 Things Students Should Know About The Statistician
S Chandrasekhar: 5 Things Students Should Know About The Great Astrophysicist
Click here for more
Education News