New Delhi:
The student wing of the Samajwadi Party, Samajwadi Chhatra Sabha (SCS) swept Allahabad University student's union elections by winning 4 out of the 5 seats including President and Vice President. The results of Allahabad Unviersity elections were declared late on Saturday and RSS's student wing ABVP was able to win only one seat, of General Secretary.
According to Press Trust of India, the SCS won the posts of President, Vice-President, Joint Secretary and Cultural Secretary of the central varsity.
Allahabad University elections results:Samajwadi Chhatra Sabha wins 4 out of the 5 seats including President and Vice President. ABVP wins 1 pic.twitter.com/wktESQA8jn

- ANI UP (@ANINewsUP) October 15, 2017
The Akhil Bharatiya Vidyarthi Parishad (ABVP), the student wing of the Rashtriya Swayamsevak Sangh (RSS) was holding the posts of President and Joint Secretary in the ongoing students union in Allahabad.
In 2015, the ABVP secured four out five spots, barring the President's post in a university which is traditionally dominated by socialist-leftist parties.
SCS's Avanish Kumar Yadav has been elected as President. Mr. Yadav defeated Mrityunjay Rao Parmar while ABVP's Priyanka Singh stood at a distant third.
SCS's Vice-President nominee Chandrashekhar Chaudhary defeated Shivam Kumar Tiwari of the ABVP by a thin margin of 72.
ABVP's General Secretary post win came with a slender margin of 62.
Ever since the restoration of the AUSU,
The Hindu reported
that the SCS has dominated the elections, winning in 2012, 2014 and 2015.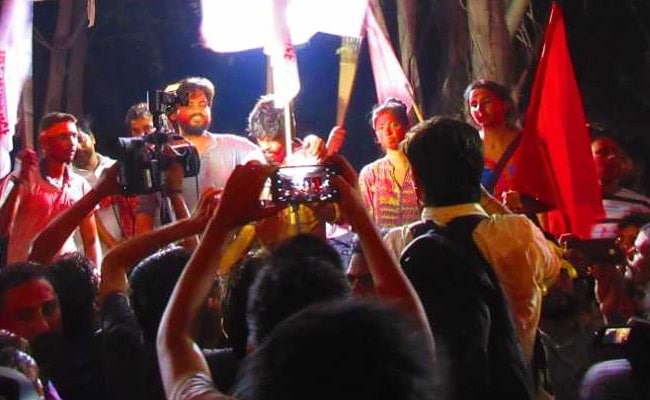 Left Alliance defeated ABVP in JNUSU elections recently
SCS's AU win comes after the BJP's spectacular victory in the Uttar Pradesh elections early this year. The BJP needed 202 seats to come to power in the 403-seat assembly. It ended up with a landslide score of 312.
"This is the victory of all students of the university" newly-elected president of the students' union Avinash Kumar Yadav said.
According to Allahabad University's chief proctor Professor Ram Sevak Dubey, in the voting which took place till yesterday noon, 9,181 ballots were cast.
The university has around 19,900 students.
President of the Samajwadi Party and former Chief Minister of Uttar Pradesh, Akhilesh Yadav congratulated the newly elected students union leaders and thanked the students community in a tweet.
नव निर्वाचित छात्रसंघ पदाधिकारियों को जीतने पर बधाई एवं साथ देने के लिए सभी छात्रों का धन्यवाद । #SPWinsAU

- Akhilesh Yadav (@yadavakhilesh) October 15, 2017
Congress's student wing NSUI and several other coalitions have recently drubbed ABVP in students union election conducted at
Hyderabad Central University
,
Delhi University
,
JNU
and Panjab University.
(With inputs from PTI)
Click here for more
Education News