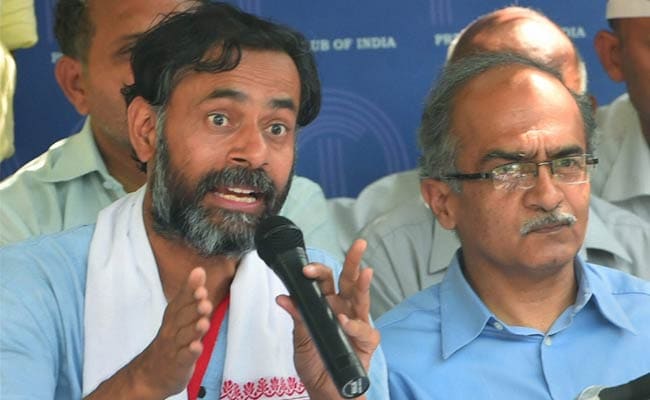 New Delhi:
Aam Aadmi Party leaders Yogendra Yadav and Prashant Bhushan, placed precariously on the verge of expulsion, have called a meeting of their supporters within and outside the party on April 14 at the Constitution Club in New Delhi.

Amid reports that the duo is readying to form their own party, Mr Yadav told NDTV, that he would "consider that only after expulsion. This (AAP) is not a party that belongs to any one person," he said, reiterating the allegation that AAP's top man Arvind Kejriwal runs the show without any consultation with colleagues.

Mr Yadav and Mr Bhushan, both founding members of AAP, have been removed from all important party posts - a public and acrimonious process that began nearly three weeks ago and was completed this weekend when they were ousted from the National Executive Council in a vote that involved nearly 400 members. AAP is now prepping to expel them on disciplinary grounds - they stand accused of working against Mr Kejriwal and trying unsuccessfully to undermine the party's campaign in the Delhi election, which ended with a record result for India's youngest party, and brought Mr Kejriwal back for a second term as Chief Minister.


The meeting on April 14 by the rebels is expected to include activist Medha Patkar, who quit AAP in a show of solidarity with Mr Yadav and Mr Bhushan; Admiral L Ramdas, who was removed as the party's Lokpal, or ombudsman, is also likely to attend.
April 14 is the birth anniversary of Dr BR Ambedkar, who drafted the Indian Constitution.