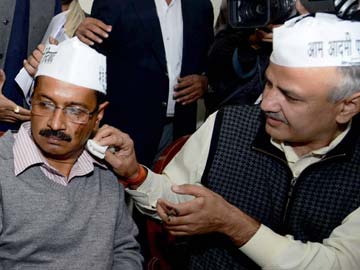 New Delhi:
Activist-turned-politician Arvind Kejriwal yesterday denied that financial donations to 2011's massive anti-corruption campaign fronted by Anna Hazare have been spent by his party on its campaign for the Delhi election. If he is found guilty, Mr Kejriwal professed at a press conference, he will not contest the election which will be held on December 4.
Mr Kejriwal said that he has received
a letter from Anna
, who he described as his guru, asking him to clarify whether the funds they raised during their crusade for a law that creates a Lokpal or national ombudsman have been diverted.
"I told him he should ask for an inquiry by any former judge," said Mr Kejriwal, avowing, "If the slightest irregularity is found, I will not fight the Delhi election." (
Read: Kejriwal's reply to Anna Hazare
)
In his letter to his former protege, Anna, 76, wrote, "I don't want my name to be used for your campaign. Fund-raising for your party is something you have to figure out."
Referring to the movement he led with Mr Kejriwal two years ago, Anna said, "I have no idea what happened to the money collected during those protests. Those funds should not be used for elections. "
Mr Kejriwal was interrupted briefly at his press conference by a man who threw ink at him and shouted slogans supporting Anna. The BJP denied reports that he is affiliated to the party. In a tweet later in the day, Mr Kejriwal said he has forgiven the heckler who, he said, "seemed to have some misconceptions about us." (
BJP distances itself from the man who heckled Arvind Kejriwal
)
In 2011, Mr Kejriwal was Anna's main lieutenant in what came to be known as the Lokpal movement, challenging politicians to pass a law that sanctions an ombudsman empowered to investigate charges of graft against elected representatives.
The apogee of the movement was Anna's 16-day hunger strike in Delhi in August that year, which generated huge public interest and support. But later protests were ineffectual.
In 2012, Anna said he could not support Mr Kejriwal's decision to form a political party and contest elections.