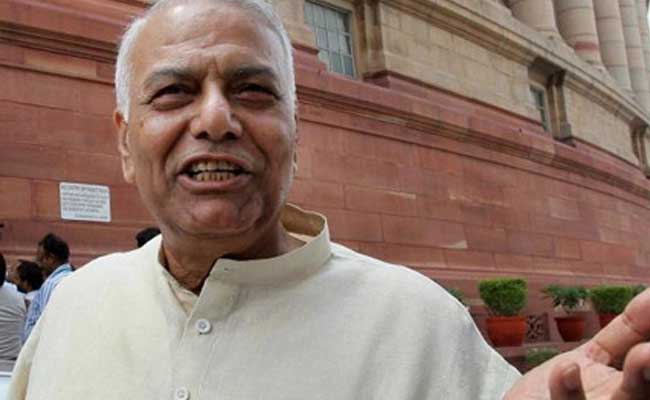 Highlights
BJP leader Yashwant Sinha is frequent critic of his party's policies
Mr Sinha criticised President's order to disqualify 20 AAP legislators
Disqualifying AAP MLAs is complete miscarriage of natural justice: Sinha
New Delhi:
Senior BJP leader Yashwant Sinha, who is a frequent critic of his party's policies, today described the disqualification of Aam Aadmi Party's 20 lawmakers in office of profit case as "Tughlaqshahi" (arbitrary"). His remarks came soon after President Ram Nath Kovind signed off on the top election body's recommendation to disqualify the lawmakers for holding government posts outside their elected duties.

"President's order disqualifying the 20 AAP MLAs is complete miscarriage of natural justice. No hearing, no waiting for High Court's order. It is Tughluqshahi (Tughlaqshahi) of the worst order," Mr Sinha tweeted.

The AAP described the move as politically motivated and termed the disqualification as "murder of democracy".

"President's order to disqualify AAP MLAs is unconstitutional and dangerous for democracy," AAp leader Aashutosh tweeted. The party said it would go to the Supreme Court if need be. The high court will hear their appeal against disqualification tomorrow.

The Election Commission on Friday asked President to disqualify the 20 lawmakers for holding "de facto the office of parliamentary secretaries from March 13, 2015 to September 8, 2016".


AAP also alleged that the disqualification move was Chief Election Commissioner AK Joti's "parting gift to PM Modi". Mr Joti is retiring on Monday.
"They (BJP-led Centre) have tremendously victimised us by imposing fake cases on our MLAs. They conducted CBI raids on me and didn't get anything and today they declared 20 of our MLAs disqualified," Delhi Chief Minister Arvind Kejriwal said in another tweet.
The AAP says the 20 legislators were acting as parliamentary secretaries assisting Delhi government ministers in running their offices, but were not receiving any salary for the work.

The opposition has called for Mr Kejirwal's resignation after the mass disqualification of legislators. The disqualification of the 20 lawmakers will, however, not dent AAP's majority in the Delhi assembly, which has 66 seats in 70-member assembly.