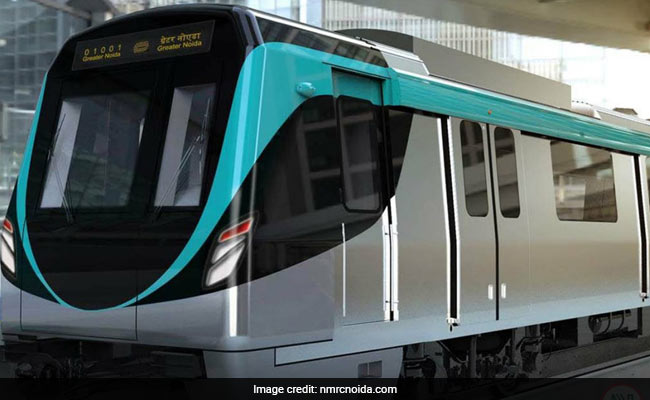 Greater Noida:
The trial run of the Noida-Greater Noida Metro commenced on Tuesday with Delhi Metro Rail Corporation Managing Director Mangu Singh flagging off the ambitious project to link the twin cities by rail.
Mr Singh flagged off the trial run after a brief ritual ceremony here which was attended by Chief Executive Officer and Noida Metro Rail Corporation Managing Director Alok Tandon besides other DMRC officials.
Initially the metro will run between Greater Noida Depot to Knowledge Park 2 metro station, a stretch of around 6 km, after tests and clearance, according to an official release.
The total length of this metro link is 29.07 km and is called the Noida-Greater Noida Metro Rail corridor. It has 21 metro stations, with Noida Sector 71 in Noida and Delta Depot Station in Greater Noida being the two terminus stations, the release stated.
The corridor will have a total of 19 train sets (i.e, 76 coaches). Dedicated space has been provided for wheel chair based commuters in Driving Trailer cars at both the ends of the trains. The trains are expected to arrive every fortnight, according to the release.
The Civil Work of this 29.7-km-long standard gauge corridor having 21 stations was completed in November 2017 with the erection of the last girder. Track laying and system works are in progress.
During the test run, the train will undergo rigorous signaling testing. During testing and the trial runs, the interface of the Metro train will be checked to ensure that there is no physical infringement with civil infrastructure during the movement of the train on the track and also testing of various subsystems of coaches shall be done.
After the trial run and technical clearance, the Metro service will be inaugurated and opened to public. Uttar Pradesh Chief Minister Yogi Adityanath is expected to inaugurate it, the release said.
This corridor will have green energy intitiative as 10 MW solar power generations is planned from solar panels installed on rooftops of Metro stations.
Rainwater harvesting provision will also be available at all stations and along the viaduct.
Beside this Metro corridor NMRC will develop two other metro corridors. One corridor is 14.95 km corridor between Noida Sector 71-72 to Greater Noida Knowledge Park V having 9 metro station. Other corridor to be developed by NMRC is 10.922 km from Okhla Birds Sanctuary to Sector 142 Noida having eight stations.