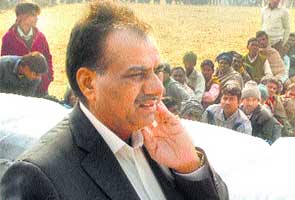 Delhi:
A wedding is an all family affair in India. It also spells big business. And when the people tying the knot are heirs of two of the country's richest politicians then the scale of everything associated with the event is likely to reach astronomical proportions.
On Tuesday, Congress leader Kanwar Singh Tanwar's son Lalit married an ex-MLA from Sohna, Sukhbir Singh Jaunapuria's daughter Yogita at Jaunapur village in Haryana. Around 15,000 people attended the ceremony.
From gifting a chopper to inviting every Gujjar in town, Jaunapuria and Tanwar made sure that the wedding of their scions remains etched in people's memory for years to come. But it's not just the aam aadmi who was invited. According to close associates of Kanwar Singh Tanwar, more than ten Bollywood celebrities including Shahrukh Khan and Aishwarya Rai are expected to attend a special ceremony on March 6 in the Capital.
Flight tickets have been sent and hotels have been booked. VIP invitations have also been sent to political leaders of all major parties. Intelligence sources have told MiD DAY that Prime Minister Manmohan Singh has been specially invited and is likely to attend the ceremony. It is also expected that a Hollywood artist, whose name wasn't revealed, may perform for the guests on the 6th of this month.
Big-ticket event
The celebrities are expected to come under one roof for the event on March 6 at Delhi's Ashok Hotel. Tanwar had specifically ordered around 1000 special cards which were sent to all the VIPs. The thousands who will be attending the reception on March 3 at Tanwar's residence at 127 Asola, Fatehpur Beri in Delhi, will get a chance to see actor/singer Gurdas Mann and Bollywood starlet Neha Dhupia perform. The week-long celebrations include a musical night to be graced by famous folk performances with artistes arriving from different parts of the country. Seven musical bands have been hired for the baraat. The Tanwars have also ordered 1100 designer turbans for their family, relatives and friends. Around 125 people will be there to tie the headgear. A source also said that in all around 11,000 wedding invitations were printed for the event.
Gift gallery
The lagan ceremony that was held on February 25 was attended by over 4000 guests from eight different villages. All the guests who attended were presented a packet as return gift which comprised a 30-gm silver biscuit, a safari suit set, a shawl and Rs 2100 cash. A villager who attended the lagan ceremony said: "It was a huge event. There are around eight villages in Fatehpur Beri area and people from each and every household were invited. This is one of the biggest weddings we have witnessed in our lifetime." "During the ceremony, money amounting to Rs 21 crore along with a silver dummy of a helicopter among other gifts was offered by the bride's family. The family also promised that all demands of whosoever is coming in the barat will be fulfilled. The groom's grandfather was also offered money amounting to about Rs 2.5 crore during the lagan ceremony by the bride's family," a source said.
Picture this!
Some of those who attended the lagan function also said that Sukhbir Singh Jaunapuria, a former MLA from Sohna and bride's father, even handed over a photograph of the gift - a 5-seater chopper - to Tanwar. The ceremony was held at Tanwar's farmhouse in Asola, south Delhi and was attended by several village elders besides politicians from rural Delhi. When MiD DAY contacted Tanwar to find out about the mega wedding, he replied: "You are welcome there to see it yourself. The baraat will leave at 6 pm." When our reporters visited Tanwar's house in Delhi with the intention of meeting the groom, they found the house heavily guarded. A close relative of the family invited us to the ceremony on March 1 to witness the event first-hand.
Offers galore
During the ceremony, money amounting to Rs 21 crore along with a silver dummy of a helicopter among other gifts was offered by the bride's family.