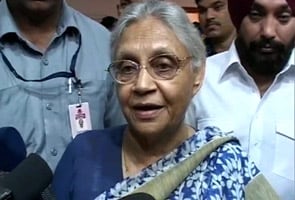 New Delhi:
Chief Minister Sheila Dikshit has been admitted to a hospital where she underwent an angioplasty procedure on Tuesday.
Ms Dikshit, 74, was admitted to Fortis Escorts Heart Institute on Monday night after she complained of tiredness, cold and throat infection.
She underwent an angioplasty at the hospital on Tuesday as blockage was found in one of her arteries, sources said.
Angioplasty is a non-surgical procedure which is performed for widening blocked arteries and improving blood circulation.
The sources said an overall health check-up was also carried out on Ms Dikshit.
The Chief Minister cleared a number of files from the hospital bed. She is likely to be released from hospital on Wednesday.