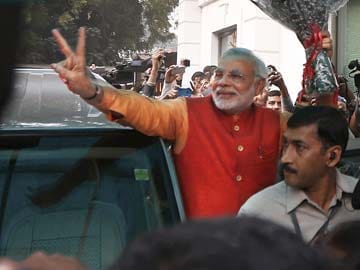 New Delhi:
Narendra Modi
, the BJP's prime ministerial candidate for 2014, arrived in Delhi on Sunday amid intense debate over his contribution to the BJP's superb performance in Assembly elections for which votes were counted.
Top Congress leaders magnanimously congratulated the BJP's local leaders in Rajasthan and Madhya Pradesh, states it has swept, but emphasised that they do not see this as a "Modi wave."
Union minister Jyotiraditya Scindia said, "Modi has not had any impact in Madhya Pradesh."
But the BJP's Ravi Shankar Prasad said while no praise was enough for the efforts of his party's state leaders like Vasundhara Raje in Rajasthan and Shivraj Singh Chouhan in Madhya Pradesh, Mr Modi's impact must not be understated either. He said Mr Modi's extensive campaigning had enthused not just party cadre, but also voters.
Ms Raje, set to be Rajasthan chief minister, said Mr Modi was "a very big factor" in her victory. She also predicted that, "This is the semi-final to what is going to happen," holding that today's results portend a return to power for her party in the national elections under Mr Modi's leadership.
The BJP had named Mr Modi presumptive PM in September, overriding the suggestion of party leaders like LK Advani that this should be done only after these assembly elections.
His fans say that confidence of the party in Mr Modi has been validated by today's performance. Detractors point out that if Mr Modi was indeed a big factor in these elections, then the BJP should've done better in Delhi, where it has emerged as the largest party in a hung House and in Chhattisgarh, where it has won by a slender majority.