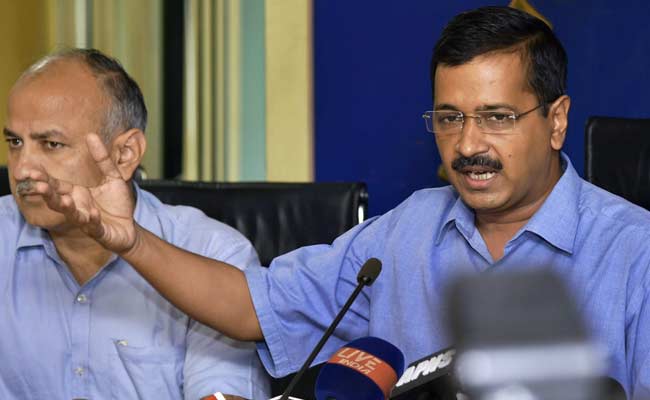 New Delhi:
Chief Minister Arvind Kejriwal on Wednesday sought Lt Governor Anil Baijal's direction to the Delhi Police to ensure implementation of the ESMA in the wake of the strike by DTC workers, saying he has the "constitutional duty" to do this.
Launching an attack on the BJP, Mr Kejriwal alleged that most contractual workers of the Delhi Transport Corporation (DTC) wanted to attend work, but they are being prevented by the "goons" of the saffron party in the city.
Several contractual employees of the state-owned transport agency have been boycotting work since October 22 to press for their demands.
Mr Baijal has imposed the Essential Services Maintenance Act, 1974, on the DTC for six months banning all strikes by its employees.
"Most workers want to attend work. They r being prevented by BJP goons. Police not taking action despite ESMA. LG refusing to meet. Why is LG not meeting the minister? Why is LG not directing police to act? BJP misusing LG yet again n harassing Delhiites? (sic)," Mr Kejriwal tweeted.
In another tweet, the chief minister said, "LG has constitutional duty to direct Del police and ensure implementation of ESMA (sic)".
Calling the strike of the DTC contractual workers as "illegal", Transport Minister Kailash Gahlot said despite the imposition of the ESMA, the workers continue to protest and slammed the Delhi police for not taking any action against them.
"Despite the imposition of the ESMA, the DTC contractual employees continue to strike, which is illegal and an offence. And the workers who are going to duty are being beaten up and threatened. What action has the Lieutenant Governor or the Delhi Police taken in this regard?" he said.
Mr Gahlot claimed that 96 per cent of the DTC buses were plying normally Wednesday despite the strike called by contractual workers.
"Wages related demands of contractual employees were accepted already. We are open to holding talks with them and discuss their issues," he said.
On Sunday, the DTC had said the Delhi government has restored the minimum wage rates prevailing before August 4, 2018, of contractual employees and withdrew the orders for reducing the wages.
The deduction in wages made for the intervening period from August 4 till October 31 will be credited to the accounts of the personnel by the end of this month, it said.